10 of the most luxurious and expensive hotels in the world
Normally, everything that is expensive should be good / premium / luxury. But does it also apply among hotels? In terms of services and standards, this could be true. Many of the hotels listed below could be among the best hotels in the world.
However, the best could mean much more than expensive. To define which is the best hotel in the world, we should check many more subjective factors about what people like. Some might like privacy, others would appreciate luxury, activities and rich nightlife. It is difficult to objectively define the most luxurious hotels in the world.
In order to rank the most luxurious hotels in the world, we should also look at the stars, customer satisfaction and reviews. Sometimes a small and comfortable hotel can receive very good reviews and therefore you can climb on this list, even if it is not an expensive hotel.
The most luxurious hotels in the world.
A hotel can be a unit that offers short-term accommodation. However, the comfort level can vary from hotel to hotel and that is what sets them apart. Some hotels seem to be Heaven on Earth with state-of-the-art facilities and located in extraordinary places.
If you have an unlimited budget and are looking for a premium accommodation experience anywhere in the world, here are the ten most luxurious hotels of 2021, according to Travel Top List.
Burj Al Arab (Dubai, United Arab Emirates)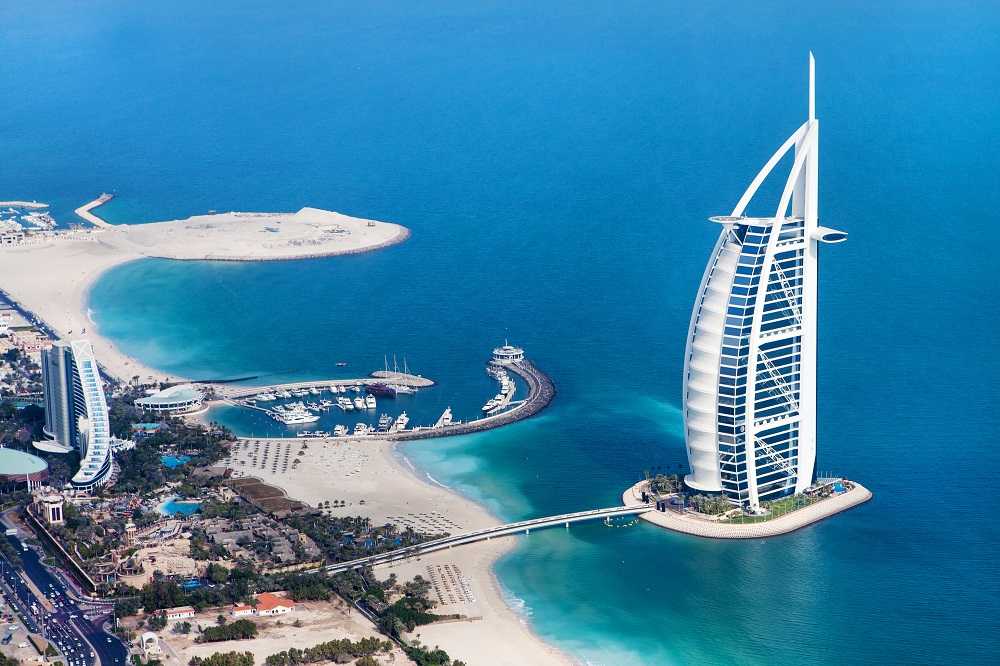 This wonder of the modern world is the fourth tallest hotel in the world. The shape of the building is reminiscent of a ship's sail. He has a heliport, and the British Tom Wright was the one who designed the hotel. At 321 meters high, it is the tallest building in the world used exclusively as a hotel. It is located on an artificial island, 280 m from Jumeirah Beach, and is connected to the shore by a curved private bridge. It is known as the only seven-star hotel in the world, officially being classified as a five-star deluxe. A room can reach up to $ 24.000 a night.
Burj Al Arab Jumeirah offers luxury apartments and rooms with panoramic views of the Arabian Gulf, 9 restaurants and a spa. Guests can arrive with Rolls-Royce cars with a professional driver provided by the hotel or using a dedicated shuttle service by helicopter. The terrace offers 2 swimming pools, 32 luxury cottages, a restaurant and a bar.
The Sky View Bar is suspended 200 meters above sea level. Al Muntaha is the restaurant that serves modern European cuisine. Located directly on the beach, Villa Beach Restaurant is open daily for lunch and dinner. Talise Spa has relaxation areas and many facilities: separate indoor pools, hot tub, treatment rooms with sea views and saunas.
Hotel Plaza Athenèe (Paris, France)
It is classified as the "First Hotel in Paris" in terms of grandeur. On the 5th floor is the largest suite in the French hotel industry. The hotel offers a unique view of the most important sights in Paris, one of them being La Tour Eiffel. Guests can enjoy French Regency fabrics and furniture. One night here will cost you about $ 27.000.
Located on Avenue Montaigne, Hotel Athénée has a Dior Institute spa, 5 restaurants, a cocktail bar and an ice rink that is only open in the winter season. It is 5 minutes from Avenue Champs Elysées and 15 minutes from the Eiffel Tower.
In all rooms and suites at Hôtel Plaza Athénée Paris, guests can choose from over 80 drinks from the minibar and many types of pillows for a good night's sleep. They have free access to the spa and a gastronomic offer that includes an American breakfast, gourmet French dishes or Japanese specialties. The restaurants are supervised by Michelin-starred chef Alain Ducasse.
Palms Casino Resort (Las Vegas, Nevada, USA)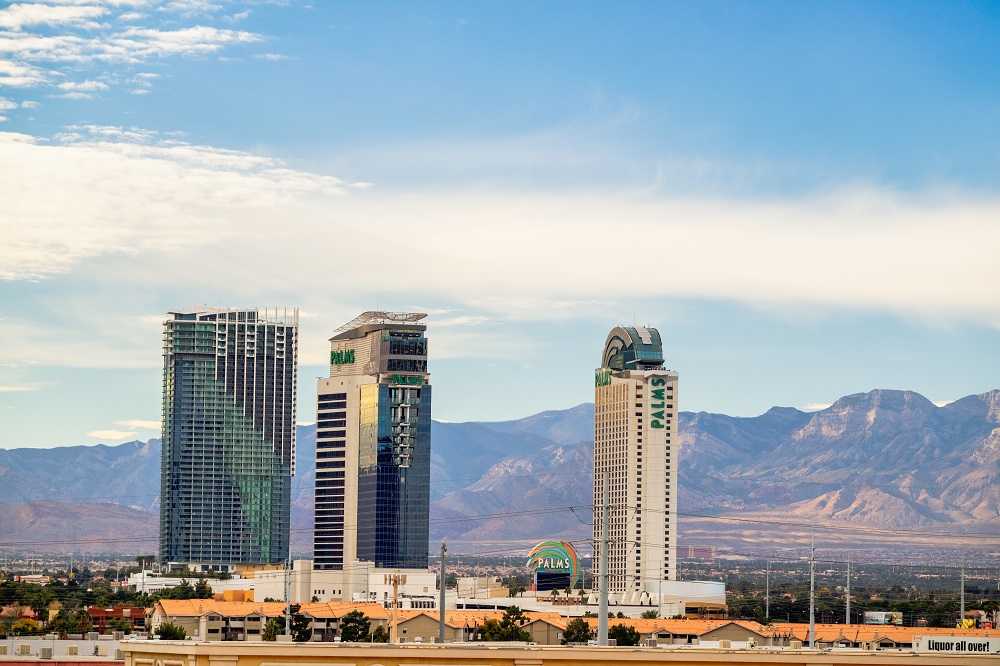 This hotel and casino has 653 opulent rooms, one more lavish than the other, but none more luxurious than Sky Villa. The design of the hetel is a mixture of good taste and combines modernist and retro style. Its world-class facilities such as poker tables, bold artwork and indoor pools make it the favorite choice of the rich.
Palms Casino Resort is located next to the Las Vegas Strip in Nevada. The hotel has an 8.811 sqm casino, a recording studio, a Michelin-starred restaurant and a 2.500-seat concert hall.
Fantasy Tower is also home to several places specially designed for nightlife, including Moon Nightclub and The View. The tower houses what is known as Sky Villas and Fantasy Suites, which are some of the most expensive hotel suites in the world. Villa Sky is spread over two floors and is located on the top floors of the hotel. A night at the hotel can cost you up to $ 40.000.
Grand Hyatt Cannes Hotel Martinez (Cannes, France)
Grand Hyatt Cannes Hotel Martinez is the image of luxury and opulence life in France. Founded in 1929 by an Italian noble family, its art deco decor is unmistakable. You can enjoy the picturesque view of the city in the south of France, directly from the hotel room. Some of its exclusive features include rooms where guests can enjoy the luxury of personal jacuzzis overlooking the Gulf of Cannes.
Located on Cannes 'famous La Croisette Boulevard, the hotel has a private beach, available at an additional cost. The Le Jardin du Martinez restaurant, opened in May 2018, has a terrace set in the shade of palm trees and cypresses, and when the weather is nice, themed parties are organized in the hotel garden in the style of the 1930s. Guests wishing a dining experience can dine. at the 2-Michelin-starred La Palme d'Or restaurant, which specializes in cinema-inspired cuisine.
Located on the beach, La Plage du Martinez Restaurant serves Mediterranean cuisine and the Martinez Bar celebrates the history of the Martinez Hotel and offers cocktails, as well as an evening culinary show at Teppan plancha grill. A night spent in one of their penthouses can cost up to $ 43.000.
Grand Resort Lagonissi Royal Villa (Athens, Greece)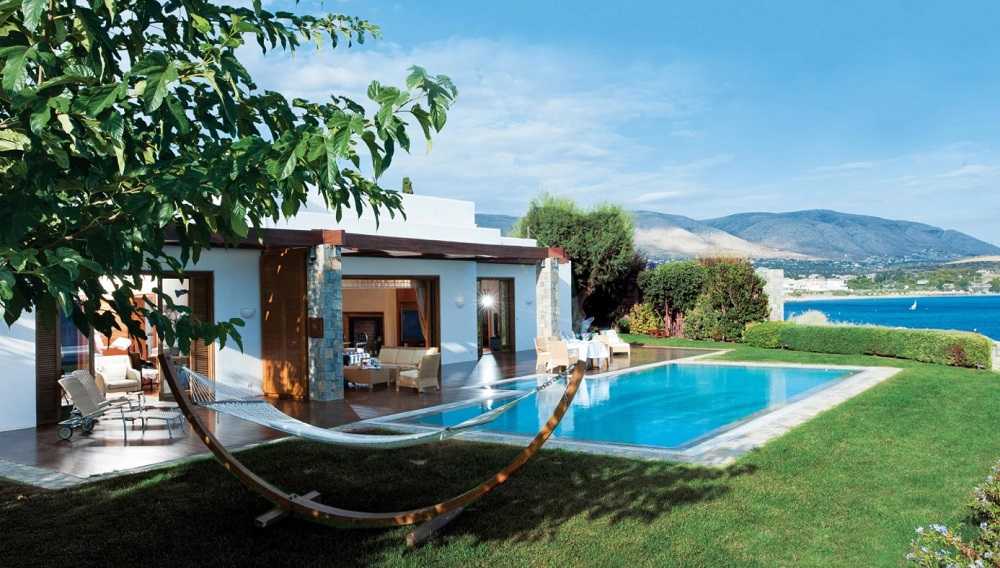 A very extravagant hotel located on the Athenian Rivera, it has ten restaurants, 197 rooms and 76 apartments. It offers concierge facilities such as helicopter rides, yacht rentals, limousines with driver for distinguished guests. The hotel is the definition of Greek opulence, and a night spent in this hotel can cost over $ 40.000.
Located on a stunning 300 km peninsula in the southern province of Attica, Grand Resort offers an excellent dining experience and holistic spa treatments. Luxurious rooms have uninterrupted views of the Saronic Gulf or even modern rooms and bungalows set on the beach. The ThalaSpa Chenot Spa has state-of-the-art facilities and rejuvenation treatments and special menus for a balanced diet.
The Grand Resort's 10 restaurants offer international and Greek cuisine. Most restaurants have been awarded the Five Star Diamond Award by the American Academy of Hospitality Science (AAHS). The hotel is located 30 minutes from the center of Athens, Athens Eleftherios Venizelos International Airport is 22 km away, and Sounio Poseidon Temple is 27 km away.
Laucala Island Resort Hilltop Estate (Fiji)
A very luxurious villa located on the island of the Fiji archipelago. To access it, you must request approval - through an application - from the owner Dietrick Mateschitz. The hotel received many positive reviews, many calling it "Apex of the World". You can't book a stay here, but if you're friends with the founder of Red Bull he might let you spend a dream vacation here. A night here can cost up to $ 45.000.
Laucala Island is a lush place that offers total privacy. The island is located in the Koro Sea of ​​Fiji and has miles of private forest, coconut plantations, collapsing waterfalls and several pools (including one with a glass edge), a golf course designed by David McLay Kidd, tennis courts, a divine spa and more activities than you could do in one visit.
Hilltop is perched on the green hills, so the panoramic views of the impossibly lush jungle and the bright blue water are, as it were, out of this world. All structures are made of local materials, such as arrow palms, staves and magi magi (coconut shells). It is gigantic: there is a main residence, two large guest residences, a private pool, private runway and the services of a babysitter, driver and cook, which make this property feel like a resort within a resort.
Raj Palace Hotel (Jaipur, India)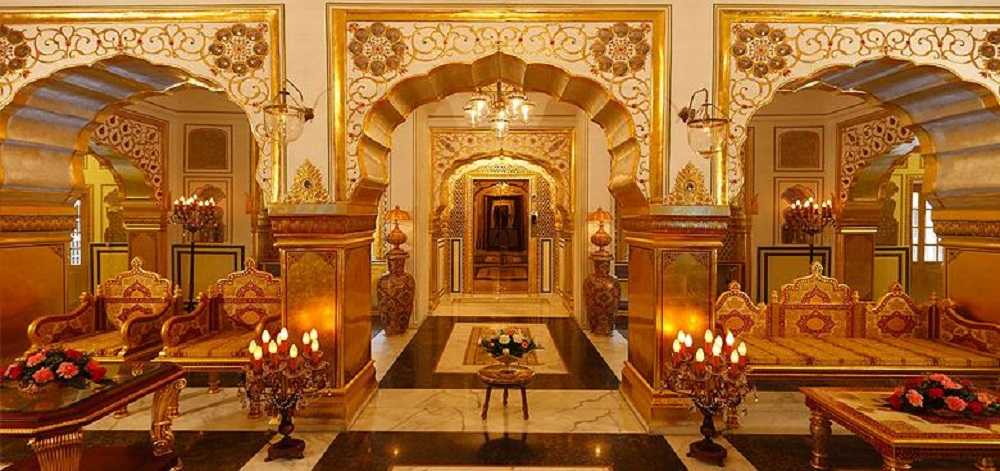 It is considered the most expensive hotel in Asia. One night's accommodation at this hotel can cost over $ 45.000. It was built in 1727 and is considered a heritage hotel. It was formerly the Maharaja's Pavilion, when the royal suite lived there. In the presidential suite you can even find a museum that celebrates the heritage of India.
Built in 1727, Raj Palace was one of the city's first palaces and is a reflection of several elements from the Mughal period. Each room is unique and still seems to breathe the spirit of the illustrious guests who once stayed here. It is spacious and decorated in a traditional Indian style with antique furniture. Many rooms have pieces from the collection of the Royal Family Museum.
Guests can relax in the Raj Palace's swimming pool or schedule a massage treatment at the spa. The hotel has a number of well-equipped meeting rooms, each with a royal name. Swapna Mahal Restaurant serves international cuisine, drinks and fresh pastries can be found at The Royal Lounge, and a selection of alcoholic and non-alcoholic drinks can be enjoyed at Shikarbadi. The hotel is a 20-minute drive from Jaipur International Airport, 10 minutes from Amber Palace Fort and 5 minutes from Jal Mahal Lake.
Four Seasons Hotel Ty Warner (New York, USA)
The building was started in 1989 and its construction took seven years and cost over $ 50 million to complete. It is one of the most expensive hotels in America. Rooms are exotic, luxurious and stunning, with 360-degree views. The walls are lined with gilded or platinum fabrics. A night in this hotel costs over $ 60.000.
Offering guests the highest quality in luxury and opulence, the approximately 4.300-square-foot Ty Warner apartment occupies the entire 52nd floor of Manhattan's Four Seasons Hotel. It offers visitors unobstructed views of Central Park and the New York skyline. FMS designed the lighting to be a perfect complement to the interior design, enhancing the rich space and each carefully selected custom finish and rare furniture.
The Ty Warner Apartment is currently the most expensive hotel / hotel apartment in the United States. The entire hotel was completely renovated in 2016, and the total cost of these renovations reached 120 million dollars.
Hotel President Wilson Royal Penthouse Suite by Marriott (Geneva, Switzerland)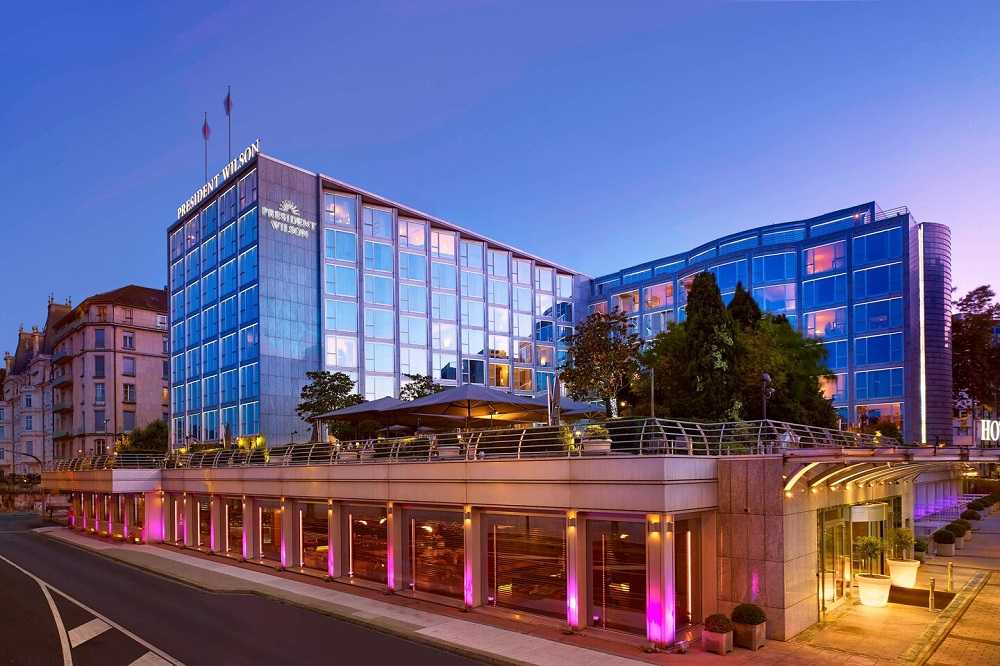 The hotel was named after the 28th president of the United States and is located close to the United Nations (UN) building near Lake Geneva. Visitors to this hotel enjoy magnificent views of the Swiss Alps. Penthouse apartments are over 1800 square meters with bulletproof windows. Also, among the countless benefits offered by the hotel are private elevators that take you directly to your apartment.
The hotel was named after the 28th president of the United States
With stunning views of Lake Geneva and a great location near Perle-du-Lac Park, the President Wilson Hotel offers a serene stay in the busy city. It has several bars, including a whiskey-only bar, a spa with La Mer treatments and a beautiful swimming pool. The restaurants reflect Geneva's international reputation: Lebanese delicacies at Arabesque, Michelin-starred French food at Bayview by Michel Roth and Japanese-French fusion at Umami.
Above all these facilities is one of the best apartments in the world: President Wilson Royal Penthouse Suite. It covers 1680 square meters (8th floor) and has 12 bedrooms. It has a premium security system, such as a private lift and bulletproof windows. A large terrace overlooking the lake and the Alps, make this apartment very popular. In addition, the room is decorated with many antiques, a piano and a blue pool table. President Wilson Royal Penthouse Suite was considered the most expensive apartment in the world. A The night spent here can be as high as $ 80.000.
Lover's Deep Luxury Submarine (Castries, St. Lucia)
St. Lucia is a perfect escape for you and your loved one. There is also the luxury underwater hotel, built inside Lover's Deep. It is a luxury submarine, created exclusively for couples. The luxury private submarine will take you deep into the Caribbean Sea. It will help the couple get rid of all the worries and daily stress. An ideal time to spend unique moments as a couple.
Luxury submarine - the underwater hotel
Luxury submarine - the underwater hotel is also a perfect choice for couples who intend to offer, in their honeymoon, something extra. However, when we talk about this magnificent hotel, we know that it is nothing less than a magical escape and every magic has a price. To take advantage of this mystical escape, you do not have to pay a huge price as we see in fairy tales, but in real life to get a fairy tale you need a lot of money.
As for this luxury submarine - underwater hotel, the only cost you have to bear is $ 292.000 per couple for one night. Pay the price and make sure you are served with the most delightful experience. Situated in the ocean at a considerable depth, the hotel offers an underwater view of the entire marine world. Although it is very extravagant, every minute spent at this hotel is worth every penny. This hotel is exactly the definition of the Mile-Low club.
In this top were considered only the prices per night at a hotel, not the real ratings of the stars or the services and luxury they offer. However, you can be sure that these things often correlate. Many of the expensive accommodations will also be some of the most luxurious hotels in the world. The prices are indicative! Currently, some hotels are under renovation or closed due to the pandemic