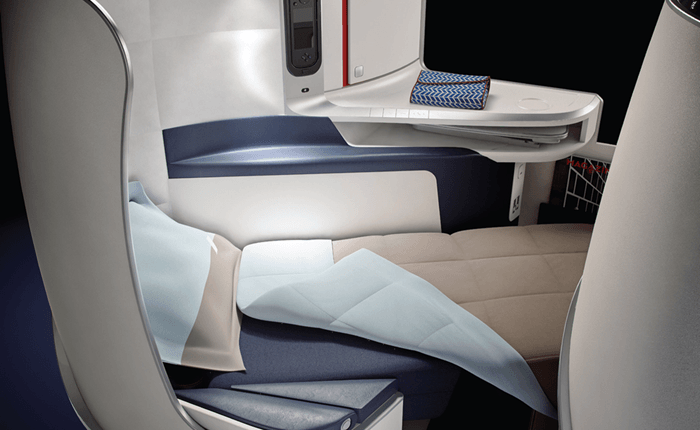 2100 from new Business cabs to 2016 aboard Air France aircraft
Air France continues the investments in the modernization of the seats in the long-courier aircraft and launches the new Business cabin model, designed for a unique flight experience. The program will include the modernization of 44 of Boeing 777 aircraft, by mounting 2 102 Business cabins, the total investment amounting to 200 million.
This new Business class represents the second stage of "Best & Beyond"- the positioning process in the upper segment started by Air France, part of the Transform 2015 program. The third stage will start in April 2014, when the new offer for La Premiere flights will be launched.
The first flight with the new travel classes will take place in June 2014, when Air France will gradually equip the 44 777 Boats with the new cabins and the new onboard entertainment system. Between June 2014 and July 2016, 10 000 Economy seats will be installed in long-haul AF aircraft, over 1 100 Premium Economy seats and over 2 000 Business cabs.
The client of the Business Class seeks especially peace and comfort, these being the main objectives pursued in designing the new Business cabins. The seat is perfectly foldable, turning into a bed at 180 degrees, the side walls of the cabin provide privacy and the noise-canceling headphones block any outside noise.
At the same time, the cabin has an adjustable leather headrest, roomy and varied storage spaces, USB port, socket and the highest quality materials.
In addition, these 44 upgraded aircraft will have about 200 less Business seats. We will thus have a significant increase in personal space for each Business passenger. Business configuration as 1-2-1.
Choosing the entertainment program is easier and more intuitive than ever. The 41 inch (16 inch) touch screen is similar to a tablet, with a redesigned interface and a menu in 12 languages ​​(French, English, Spanish, Russian, Brazilian Portuguese, Chinese, Japanese, Korean, German, Italian, Dutch, Arabic). The total investment in interactive screens for the Business class amounts to 35 million.
Air France activity on long-haul flights means 8,5 billion in turnover and 15 million customers per year. One third of this turnover belongs to the Business class and 1,6 million customers a year.