RYANAIR has carried over 150 million passengers in the last 12 months / Airline ticket promotion
Today, October 2 2019, RYANAIR has announced the transportation of 150 millions of passengers in the last 12 months. Only in September 2019, RYANAIR managed to carry 13.5 millions of passengers, up 7% from September 2018.
Yes, this much blamed and criticized company has managed to evolve and develop in a time when many other companies go bankrupt. Of course, according to many, the entire RYANAIR company is guilty of the instability of some airlines.
150 of millions of passengers carried by RYANAIR
But RYANAIR is growing year by year, increasing its fleet and increasing operations at many airports in Europe. Currently, the RYANAIR fleet has over 400 aircraft, flying to 225 from destinations in Europe and beyond. In 12 calendar months, it managed to transport multiple 25 times the population of the Island of Ireland. 150 millions of passengers are very many, a number that other top companies only dream of.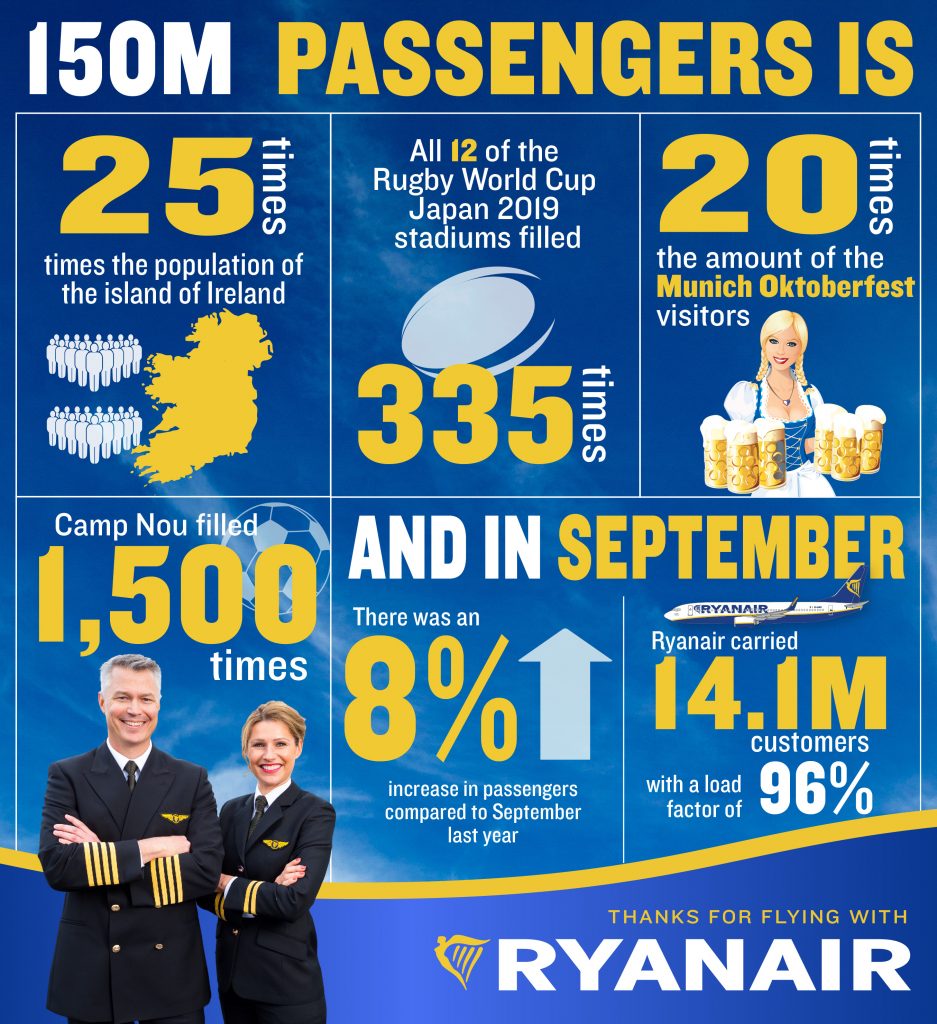 In Romania, RYANAIR has restricted its operations to Bucharest. In 2019, the Irish carrier has become more pragmatic and temperate in opening new routes departing from Romania. But even so, RYANAIR is going to inaugurate the routes Bucharest - London Southend and Bucharest - Edinburgh. And from April 2020, it will fly on the route London Stansted - Cluj.
To mark the exceeding of the 150 million threshold, RYANAIR is also launching a promotion on airline tickets, under the name "Millions in the Air". No, we are not talking about tickets at 5 €, but a reduction of 30 € for 1 million seats. This promotion is valid until October 4 2019.