You buy from eMAG, Fashion Days, elefant.ro, Libris.ro through our affiliate links and help finance the airlinestravel.ro site. It doesn't cost you anything extra, but it helps us to develop this project. Thank you!

Canceled or delayed flights? >>Claim compensation NOW<< for delayed or canceled flight and you can receive up to 600 € compensation!
The 3rd Airbus A380 ANA has been assembled, painted and ready for delivery
The famous and the famous Airbus A380, the only aircraft with two complete axles, will be removed from the production line. Official, Airbus will stop production of A380 aircraft. And the last delivery will be made in 2021.
Airbus gives up A380, but the super jumbo will continue to fly and delight passengers and aircraft enthusiasts. Currently, an Airbus A380 lands or takes off every 2 minutes, somewhere in the world. It will continue to be an attractive passenger plane and used by airlines. And Airbus is committed to providing the support needed to maintain them in operational service.
The 3rd Airbus A380 ANA was assembled
Over 240 A380 aircraft have been delivered so far. They fly on 150 routes and connect approximately 400 approved and super-jumbo compatible airports. From 2007 until now, over 300 million passengers have enjoyed the comfort of the A380.
The newest A380 airline operator is All Nippon Airways (ANA). The Japanese airline is preparing to receive the 3rd A380. All will be used on the Tokyo (Narita) - Honolulu (Hawaii) route, one of the busiest in the ANA portfolio.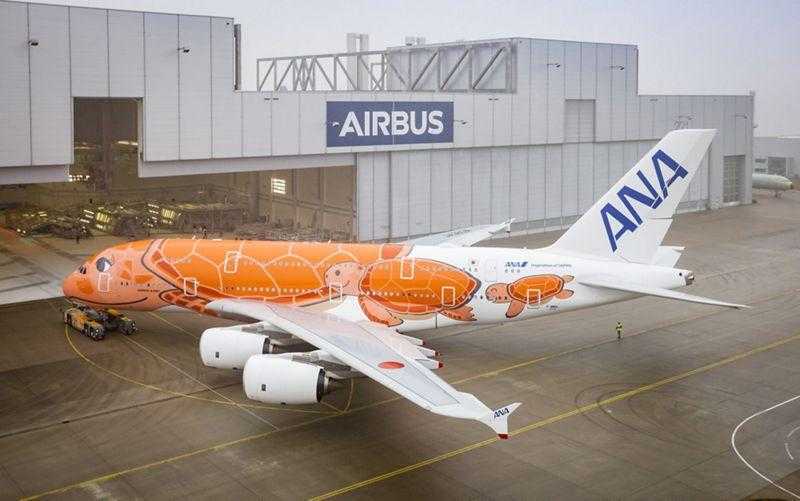 The 3rd ANA A380 is scheduled to be delivered in the spring of 2020. Thus, ANA will be able to offer up to 14 weekly flights from Narita to Honolulu. Like the other 2, the 3rd A380 aircraft is painted in a special livery. There is no shortage of turtles specific to the Hawaii region.
The 3 Airbus A380 ANA aircraft were also specially named and painted in different colors: first A380 (Lani) it is blue and represents the sky, the second A380 (Ka) is green and represents the ocean and the third A3 (Ka La) is orange and represents the sun.