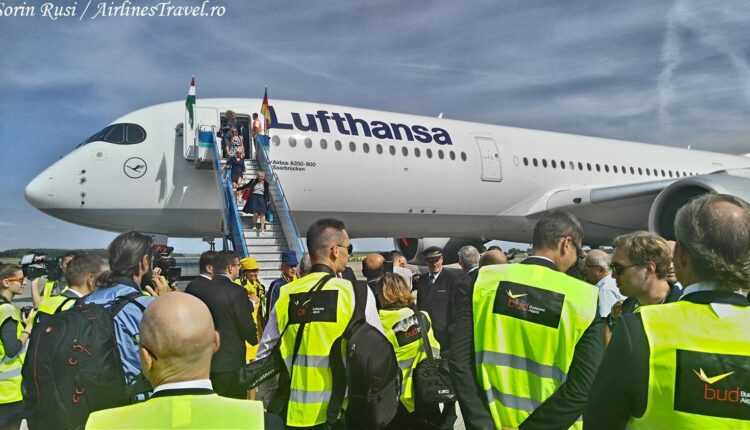 On board the Airbus A350-900 (D-AIXC) Lufthansa (Photo / Video)
On September 8, at the invitation of Lufthansa, I participated in a demonstration flight, aboard the Airbus A350-900 (D-AIXC). It was a flight operated on the Munich - Budapest route.
September 8 brings a few awards to the AirlinesTravel track record. For the first time, I flew an Airbus A350-900 Lufthansa aircraft. And for the first time ever, I flew to Budapest.
You may be wondering why a long-haul aircraft operated this short flight between Munich and Budapest. The answer is as simple as possible. Lufthansa celebrated 50 years of flights from / to Budapest. The event was supported by Budapest International Airport, Lufthansa and Lufthansa Technik.
In addition to commercial flights to Hungary, Lufthansa has also developed in Budapest a Lufthansa Technik center, which provides maintenance for Airbus A320, Boeing 737 aircraft, etc. This is also why Lufthansa chose to fly with A350-900 to Budapest , not in Bucharest.
As you can see, the German air carrier flew with A350 to Budapest and NOT at Sofia, 2 European capitals near Romania. In both destinations, there are Lufthansa Technik centers and support from local authorities. When will we see such an event in Bucharest? When will it be desired!
You may be wondering why 2 aviation journalists from Romania participated in a Lufthansa event in Budapest. I attended because the Budapest event marked in small part the anniversary of the 50 years of flights from / to Romania.
A350-900 Lufthansa flight
But let's get back to the Lufthansa A350-900 flight. Let's start with the beginning. The day of September 8 started with the first flight, which was on the route Bucharest - Munich. LH1657 was a morning flight, which made it easier for us to see the sunrise from 10 meters. It was a flight of about 000:1 hours, very smooth and pleasant.
I landed in Munich at 07: 13. I flew an Airbus A321-100 (D-AIRB). It is an aircraft with 23.8 years, but very well maintained. As I have said many times, the age of an airplane does not affect the quality of the flight. If the aircraft is maintained very well, with all upgrades up to date and in accordance with the aeronautical rules, you will not even feel the age of the aircraft.
Munich Airport Franz Josef Strauß
After landing in Munich, we stopped for a few tens of minutes in the Lufthansa Business Lounge, during which time we relaxed waiting for the airport tour. In May 2015, Munich Franz Josef Strauß Airport received 5 stars Skytrax, being the first airport outside Asia to receive this rating. At the same time, in 2017 it was nominated for the 10th time "Best Airport in Europe". A topic that we will develop in another article.
After the airport tour, which included visiting a Lufthansa First Class Lounge, we all headed to the K15 boarding gate, at the end of which we were awaiting Airbus A350-900 (D-AIXC). This is one of the A350 XWB aircraft, which are scheduled for the Lufthansa base in Munich.
Named "Saarbrücken", the plane was delivered on 1 in April. It is configured in 3 classes: 48 of seats in Business Class, 21 of seats in Premium Economy and 224 of seats in Economy Class. We had the 29A place, a place in the Economy Class.
The flight took about an hour, a time far too short for us to do a full review of the comfort of the plane, but the first impression was wow. I can say that A350-900 comes with increased passenger comfort. I do not mean the seats or the cabin in which it is configured, each airline having its own particularities.
But I liked A350-900 because it is quiet, except when the flaps are adjusted and when the landing gear is retracted. A350-900 is well built, technologically and elegantly designed.
On board, the ambient light can be adjusted in different colors or intensities. I also had a brief demonstration of brightness on board during the flight.
Otherwise, peace and relaxation. Each seat at the Economy has a pillow and a blanket, and in-flight helmets are divided for the entertainment program.
On the flight with A350-900, I played a little with the multimedia system. I used the system of rooms on the plane and so I could see in real time what is happening on the outside. There is a room on the vertical landing, one under the plane and one in the front, but behind the train in front of the landing.
The Lufthansa Economy Class multimedia system is based on the Panasonic EX3 platform. You can access over 100 movies, 200 TV shows and hundreds of songs. You have other entertainment options, including games. I also saw a few minutes of Baywatch (2017).
Before the touchdown, the pilots performed a low pass and a go-around over the Budapest airport. It was a pleasant sensation, a show on the ground and in the air. And don't panic when in full landing gear, you hear the engine running at full throttle, and the plane goes up to perform a new repositioning at landing.
After landing, the aircraft was parked in front of the former airport in Budapest, where it was greeted by the greetings of water cannons, but also by the eyes of hundreds of onlookers.
Lufthansa conference in Budapest
After landing, I attended a joint press conference, which was attended by Lufthansa officials and those from Budapest. Somewhere, Romania also mentioned in a sentence. Then we hurried to Liszt Ferenc 2A Terminal of Budapest International Airport.
The return to Munich was on the LH1679 commercial flight, aboard Airbus A321-200 (D-AIDP). He is only 5.6 years old. It was such a smooth and enjoyable flight that I managed to rest for several tens of minutes. I didn't feel it when I arrived in Munich.
I came back to the most beautiful European airport, where at least T2 and T2 Satellite look great. I didn't get to T1, but many voices say that they still retain the retro air of the past. We rested our feet in a Lufthansa Business Lounge.
After about 4 hours, we boarded to Bucharest, aboard an Airbus A320, which was to operate the LH1656 flight. It all happened very fast and our day was like a flash. After about 24 hours, I was back home and was flying with A350-900.