Airbus A380 vs. Boeing 747 - the battle of the widebody giants
Commercial aviation (passengers and cargo) is developing at an alert pace. Statistics show that the plane is the safest means of transport and is no longer a necessity, but a necessity. Passed 100 years since the first commercial flight, and the aviation reached thousands of daily flights, over 40 000 of cities connected by flights and over 8.5 million passengers transported daily. By a simple calculation, the figures show that over 3 billion passengers choose to fly by plane every year.
What's next? Airbus and Boeing estimate demand over 35 000 new aircraft in the next 20 years. Some will replace the current ones, others will help expand the operational networks. Currently, commercial aviation accounts for approximately 20 000 of civil aircraft and cargo in operational service. Aviation is growing, and over the years 20 the global fleet will reach 40 000 aircraft.
The aircraft are divided into 5 categories: regional aircraft, single-aisle medium-courier aircraft, small widebody aircraft (with 2 color), medium widebody aircraft and large widebody aircraft. The latter are approved for medium, long and very long routes.
Airbus A380 Vs. Boeing 747
The largest passenger planes are Airbus A380 and Boeing 747, both models being equipped with 4 engines and carrying capacity of up to 800 passengers (A380) and 605 passengers (B747-8i) respectively. As in any free market, both models have found their place in airlines.
But are they still effective? The Boeing 747 appeared in 1968, holding the supremacy of the market until 2005, when Airbus launched the A380 (the only 2-deck full / double-deck aircraft). To maintain its market share, Boeing attempted a refresh on the 747 range, launching the 747-8i. Newer engines, lower operating cost, increased comfort. 747 is unmistakable, having a "hump" (1.5 passenger decks).
Following some analyzes, the rivalry between the 2 models - Airbus A380 vs. Boeing 747 - translates to: 3.27 liters / seat / 100km for A380 vs. 3.35 liters / seat / 100km for Boeing 747-8i. Fuel / seat / mile cost: $ 0.055 for A380 vs. 0.057 for B747-8i.
But it is not all about the operational costs, but also the size. Boeing 747-8 has a wingspan of 68.5 meters vs. The Airbus A380 has a wingspan of 79.8 meters. This gives the American model an advantage, being able to land on many more airports.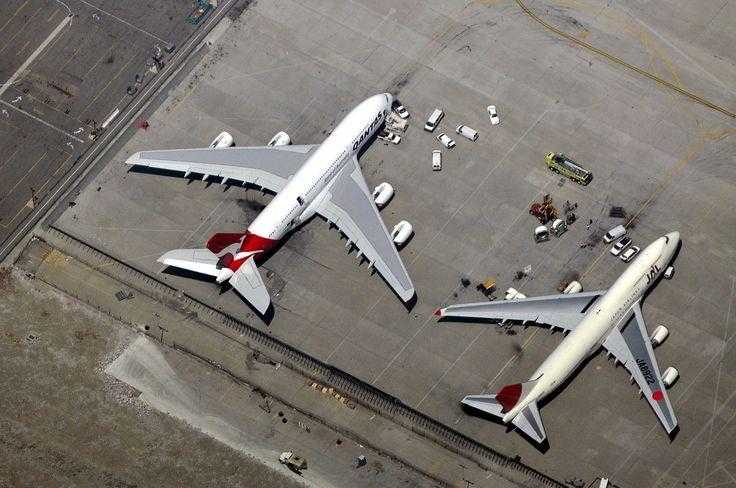 Example: Bucharest "Henri Coandă" Airport can receive Boeing 747 aircraft, but it is not an airport approved for Airbus A380. EL Al operated a few flights with Queen of the Skies / Jumbo Jet.
Airbus has announced that it is working on a new SuperJumbo model, under the name A380neo. The only notable change is the engines. These would reduce fuel consumption by up to 2.82-2.65 liters / seat / 100 kilometers.
Boeing 787 Vs. Airbus A350 XWB
But the market for very large widebody aircraft seems to be shrinking. More and more airline operators are targeting twin-engined Boeing 787 or Airbus A350 aircraft. They can offer freelancers for long and very long flights, and the operational cost is much lower.
Airbus in partnership with Singapore Airlines is preparing A350-900ULR for longest flights by plane. This is where the real battle between the aircraft manufacturers borders occurs.