Boeing 747-400 SuperTanker participates in firefighting in Amazon (Brazil and Bolivia)
Last Friday, on 23 August 2019, the Boeing 747-400 SuperTanker started its firefighting mission from Amazon, especially those in Bolivia. Evo Morales, President of Bolivia, said the aircraft will operate in the Charagua and Puerto Busch areas in particular.
To date, the aircraft has operated over 40 flights in the Santa Cruz, Bolivia area. It is the largest fire extinguisher aircraft operated by Global Supertanker Services. It can carry up to 75 000 liters of water / retardant (solution for extinguishing or reducing fires).
Boeing 747-400 SuperTanker extinguishes fires on Amazon
Due to its performance, the Boeing 747-400 SuperTanker has been requested in many regions of the world to help extinguish fires. He has been on missions in Chile, Mexico, the United States, Israel and many other "hot" regions.
The Boeing 747-400 SuperTanker is equipped with 2 identical fire-spray systems. Can deliver water / retardant at a speed of 240 km / h. At a single launch, it can cover a track that is 50 meters wide and 5 kilometers long.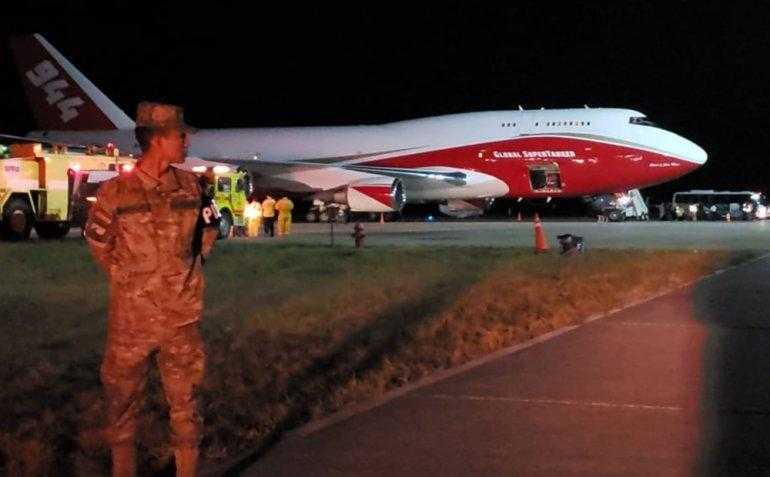 Boeing 747-400 SuperTanker has not lost its long-haul aircraft performance. It can fly anywhere in the globe in about 20 hours. On board there are 14 business chairs and 2 areas with bunk beds for crew rest. And because of these facilities, it can act quickly in missions.