You buy from eMAG, Fashion Days, elefant.ro, Libris.ro through our affiliate links and help finance the airlinestravel.ro site. It doesn't cost you anything extra, but it helps us to develop this project. Thank you!

Canceled or delayed flights? >>Claim compensation NOW<< for delayed or canceled flight and you can receive up to 600 € compensation!
City Break 2021 in Europe: 9 lesser known destinations for a city break.
In 2020, all our long-awaited holidays have been repressed. With the imposed social distance, travel to a city with crowded streets was excluded. We all adapted as we went and traveled where we could without restrictions and avoided crowds.
We hope that in 2021 we will be able to travel without restrictions, regardless of country and destination. After so many months of self-imposed isolation and mostly working from home, we need relaxation and fresh air, no matter if in the mountains or at sea.
9 idyllic European cities, ideal for a city break.
To help you shape your travel calendar in 2021, we present a list of some beautiful cities in Europe that are perfect for a relaxing city break.
The traveler's horoscope 2021 says it is necessary to travel and discover new places, even if for a short time.
Jerez de la Frontera, Spain
Seville could be the most beautiful city in Andalusia, but Jerez de la Frontera is the rough diamond. Jerez is not just a city you visit only for food, drink and fun - even if each terrace in the city serves one or more types of sherry.
Between wine tastings, get lost in the cobbled streets and discover Gothic and Baroque churches and grand palaces. At night, look for places where flamenco still sounds - this is, after all, the city where it all started.
Rijeka, Croatia
Often overlooked in favor of larger cities - Zagreb, Split, Dubrovnik - this small town on the north coast of Croatia offers a mix of architectural styles, an industrial heritage, a variety of seafood, and the locals are very friendly.
Although it is a city full of tourists, you will not realize this. Just a 15-minute walk from the city center, you will reach a pebble beach with turquoise water.
It was the Capital of European Culture in 2020 - a title it will hold until April 2021. On this occasion, a new museum was built showing the history of Rijeka, housed in the fabulous Sugar Palace (a former sugar refinery).
Wroclaw, Poland
This city in southwestern Poland suffered major damage in World War II, being under German occupation - but Steven Spielberg chose it as a replacement for East Berlin in the 1960s in his Oscar-winning thriller "Bridge of Spies". ".
In 2016 it was the European Capital of Culture. The capital of Lower Silesia has gained a lot from these cultural experiences: attractive cafes and restaurants to retire to after exploring its architectural repertoire now occupy the city center.
Sète, France
Sète is a coastal port city that includes Étang de Thau, a huge saltwater lagoon in the Mediterranean Sea. Tourists come here for the Bouzigues oysters - a thick mollusk that goes well with a cold glass of Picpoul de Pinet.
The best time to visit the area is July, when the air and sea water temperature is the best and when you can listen to music from the Gilles Peterson World Festival. For the rest of the year, it's easy to pretend you're in Venice, with more cafes, but fewer tourists.
Lahti, Finland
As greening becomes more and more important for travelers, smaller cities like Lahti have a chance to shine. Crowned as the European Green Capital in 2021, the Finnish city is the 12th destination to receive the title after being overtaken by Lisbon the previous year.
Located in the south of the country, one hour from Helsinki, Lahti offers a kind of more outdoor city break: there is the Salpausselkä Geopark, formed during the last ice age, with winding ridges, forest tracks and clean lakes, the Lahti Sports Center, which offers all kinds of winter sports, but also the renovated Lahti harbor near Lake Vesijärvi, where you can find terrace-cafes, restaurants, independent shops and an impressive concert hall.
Cork, Ireland
Ireland is one of the many islands (including Cuba and Menorca) where there are cities that are more attractive than the capital.
Cork occupies an elongated island, created where the Lee River splits into two channels. The city is full of monuments and museums - as well as the fascinating Huguenot district. And if you are passionate about fishing, but your holiday is over, the port of Kinsale is right next to Cork Airport.
Düsseldorf, Germany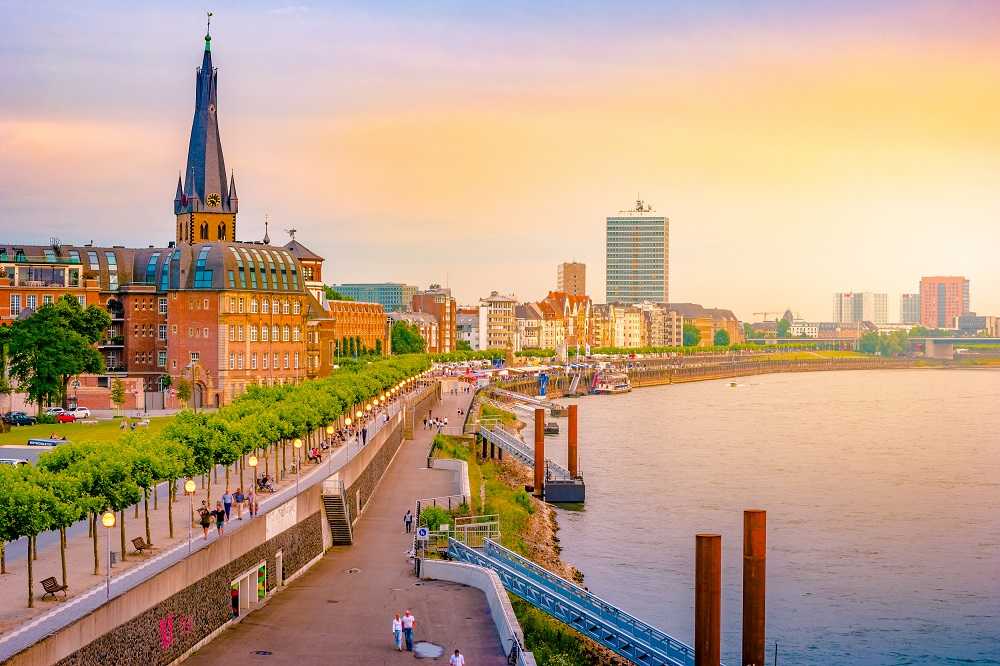 Düsseldorf is the perfect city for a city break, with many sights to visit: the Königsallee shopping boulevard - which some say is the most elegant in Europe - the cobbled streets of Altstadt - the old town, so well preserved that you will feel that you have stepped back in time - and Neue Zollhof, one of the best examples of the work of American architect Frank O Gehry.
If you need a break from all the sights, the parks along the Rhine are waiting for you to relax. Oh, the food - especially the pork ribs - is excellent, and the beer is literally cheaper than water.
Timisoara, Romania
Another European Capital of Culture, this time proposed for 2023 (it was supposed to hold the title next year, but the mandate was postponed due to the pandemic).
Located on the northern bank of the river Bega, Timisoara is sometimes called "Little Vienna" due to its secessionist architecture and rich history and the mixture of cultures that have left their mark. The Romans, Tartars, Turks, Austrians and Germans can be seen in the style of the city. The city hosts musical and theatrical performances throughout the year, but the cultural offer will undoubtedly increase in the next few years, in preparation for its period as Capital of European Culture.
Porto, Portugal
Northern Portugal is on the world tourist map due to the growing popularity of the city of Porto, which is very famous for its wine cellars, gastronomy, fado music and nightlife. Porto is also recognized as the city of bridges. The Dom Luis I Bridge is the most emblematic, built in 1886.
"Porto works, Braga prays, Coimbra studies and Lisbon receives the money" is a local saying that attests to the importance of the city as an important economic center in Portugal.
What other destinations would you suggest for a trip of a few days?