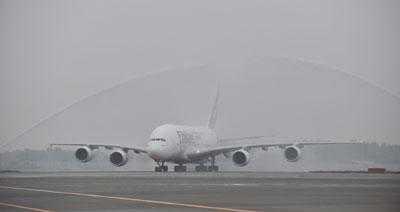 Emirates celebrates 10 years of travel to Japan and introduces Airbus A380 aircraft
Emirates celebrates 10 years of travel to Japan. The moment is marked by the introduction of the aircraft Airbus A380 on the route Dubai - Tokyo Narita. The EK318 flight was greeted with water cannons at Tokyo Narita International Airport, becoming the 19, out of the 123 network, which Emiretes operates with A380.
The aircraft Airbus A380 brings a 38% increase on this route, the equivalent of 135 seats. It is configured in 3 classes and has a total of 489 seats - 399 places in Economy Class, 76 in Business Class and 14 in First Class - private apartments.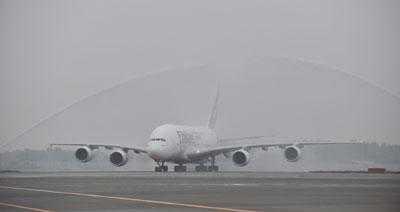 All passengers, aboard Airbus A380, can enjoy Japanese cuisine, movies, music, newspapers and magazines, but also the Internet via Wi-Fi. Those traveling to First Class have a shower and spa. Passengers traveling with Emirates on A380 can carry free luggage of 30 kg if they have a cheap ticket, 40 kg if they are at Business and 50 kg at First.
Flight schedule Dubai - Tokyo Narita - Dubai:
The EK 318 flight departed from Dubai at 02: 50 and arrived on Narita at 17: 35. Return flight EK 319 took off from Narita at 22.00 and arrived in Dubai at 04: 15, the following day.
On Tuesdays and Wednesdays, the flight EK319 takes off from Narita at 21: 20 and lands in Dubai at 03: 10, the next day.
More than 3500 Japanese passengers a week on the route Tokyo Narita - Dubai can enjoy the flight on board the largest passenger plane, but also very good connections with 31 destinations in Europe, 22 in Africa, 16 in the Middle East and 11 in North and South America via Dubai Airport.
Emirates is the largest A380 airline operator, with 22 operating units and 68 in command. Emirates operates flights to 123 from destinations in 73 countries, and in the next 3 will launch four more destinations: Barcelona, ​​Lisbon, Erbil and Washington DC. All passengers benefit from connections from the 3 Terminal at Dubai International Airport. Soon a terminal dedicated only to Airbus A380 aircraft, the first of its kind in the world, will open!