Emirates greets 100 Airbus A380 fleet (photo / video)
3 November 2017, the day Emirates received the 100 Airbus A380 from the fleet. The moment was marked by a special event at the Airbus base in Hamburg. The aircraft will be on display at the Dubai Air Show, then enter commercial service.
Here, Emirates has received the 100 Airbus A380 from the fleet. As I have written on other occasions, Emirates has the largest fleet of second-floor aircraft in the world.
Emirates has received 100 from Airbus A380 aircraft
His highness the sheik Ahmed bin Saeed Al-Maktoum, president and chief executive officer of Emirates, attended the ceremony in Hamburg alongside Tim Clark, President of Emirates; Tom Enders, Airbus Chief Executive Officer; Dominic Horwood, Director - Customer and Services Rolls-Royce; His Excellency Ali Al Ahmed, UAE Ambassador to Germany and Frank Horch, Senator for Economy, Transport and Innovation in Hamburg.
Ahmed bin Saeed Al-Maktoum emphasized the positive impact that Airbus A380 had on the aeronautics, aviation and passenger experiences. It is said that a flight with Airbus A380 compares to nothing else.
At 100 Airbus A380 (A6-EUV)
This Airbus A380 (A6-EUV) is configured in 3 classes: 14 First Class apartments, 76 seats in Business Class and 426 seats in Economy Class. It also comes equipped with the new Onboard Lounge. The propulsion is provided by 4 Rolls-Royce Trent 900 engines.
In the Emirates network, Airbus A380 aircraft fly to 48 from cities on the 6 continents. This year, the cities of São Paulo, Casablanca and Nice will join the network. From 2008 to date, over 80 millions of passengers have flown with the A380 Emirates fleet.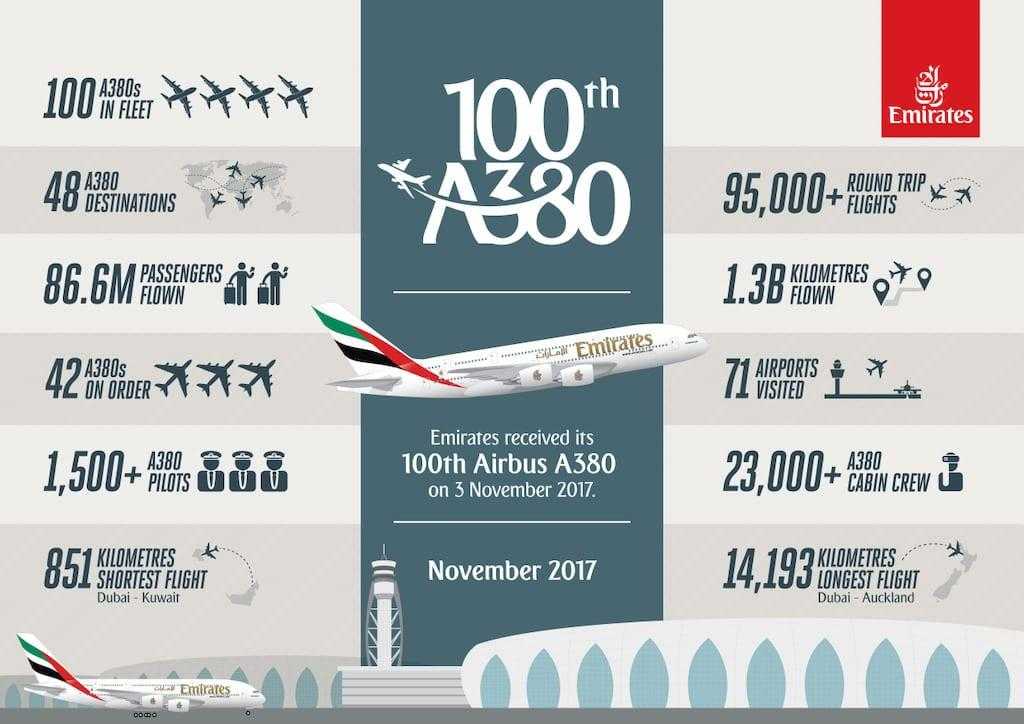 The shortest flight operated by Airbus A380 Emirates is on the route Dubai - Kuwait and has 851 kilometers. The longest flight operated by Airbus A380 Emirates is on the Dubai - Auckland route and has 14193 kilometers. All of this would not have been possible without the approximately 1500 pilots and 23 000 flight attendants prepared to fly on this type of aircraft.
Year of Zayed 2018 tribute
Airbus A380 (A6-EUV) is painted in a special livery. Sheikh Ahmet said: 2018 is the "Year of Zayed". In 2018, 100 marks the anniversary of the birth of HH Sheikh Zayed bin Sultan Al Nahyan, the founding father of the United Arab Emirates.
Just as Airbus A380 was a "road" opener in the aviation industry, so was Sheikh Zayed a visionary and a pioneer.