Hello Kitty aircraft from EVA Air
Eva Air, Taiwanese airline operator with main base at Taiwan Taoyuan International Airport (Taipei), decorated 5 aircraft Airbus A330-300 cu Hello Kitty brand. The first Hello Kitty aircraft from Eva Air appeared in 2005, and in 2009 they disappeared because the license on this nice brand had expired.
But fashion is back because it enjoys a high degree of load. The fifth aircraft entered the fleet on 22 June 2012. Anna Wong, EVA Air's public relations officer in Hong Kong, said that passengers greatly appreciate these aircraft and specifically request them to fly on board, and the load rating is on average 85% -90%.
planes Hello Kitty from Eva Air are not only unique through the special livery, but they are also customized inside. The companions on board have Hello Kitty costumes. The decorative elements inside the aircraft, the food and even the tickets are personalized with the friendly cat.
The 5 aircraft are specially decorated and operate different routes: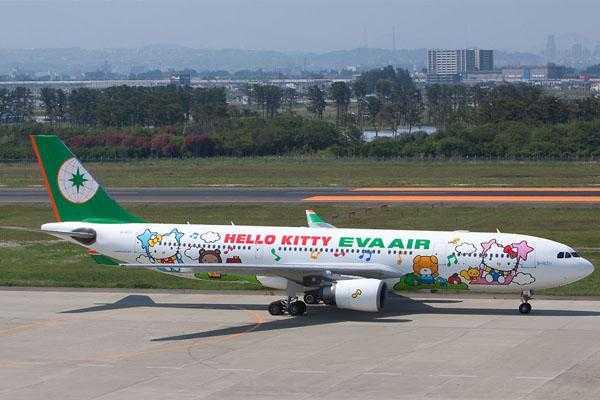 Hello Kitty Happy Music Time fly on Taipei-Sapporo (BR115 / 116) and Taipei-Guam (BR19 / 20) routes

Hello Kitty Speed ​​Puff fly on the Taipei-Hong Kong route (BR857 / 858)

Hello Kitty Magic Stars fly on Taipei-Shanghai (BR771 / 772) and Taipei-Tokyo (BR2189 / 2197) routes

Hello Kitty Around the World fly on Taipei-Shanghai (BR771 / 772) and Taipei-Tokyo (BR2189 / 2197) routes

Hello Kitty Loves Apple fly on Taipei-Fukuoka (BR2106 / 2105) and Taipei-Seoul (BR160 / 159) routes