Liquids allowed in hand luggage on board the plane! How to pack your hand luggage liquids!
When it comes to hand luggage which we take on the plane, we often wonder what we are allowed to take in it, what we are not allowed to do and what is the logic behind which these rules were established. Apparently, we can say that some of the banned products are harmless. However, history has shown us that many of these things can be turned into weapons, and then special measures have been taken and rules have been established that we must all follow today.
How to pack your hand luggage liquids!
The same goes for luggage liquids. The transport of liquids, aerosols and gels in the security restricted area of ​​an airport and on board aircraft is controlled in accordance with current safety requirements applicable in the European Union, whether we have flights to Europe or departing from an airport in Europe. But many of these rules apply globally, not just in Europe.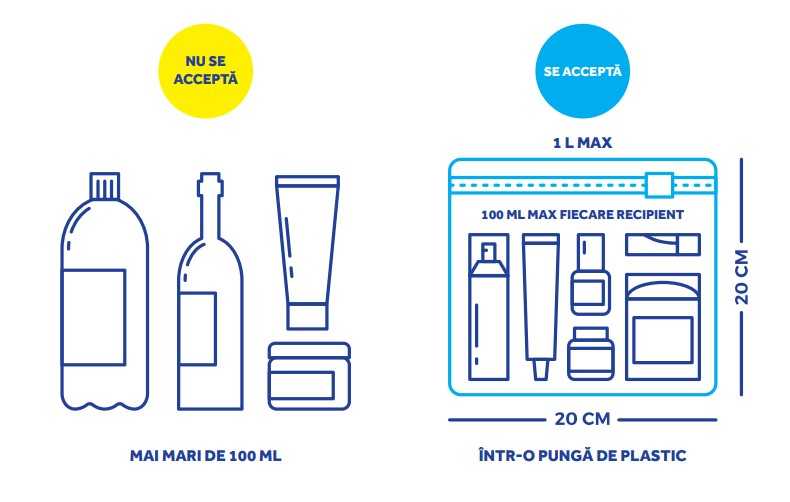 Liquids (LAGs - liquids, aerosols and gels) include: pastes, lotions, creams, liquid mixtures, the contents of pressure vessels and other articles of similar consistency. LAGs packed in individual containers with a maximum capacity of 100 ml or equivalent and located in one are permitted in the aircraft cabin. plastic bag, transparent, resealable (with press closure system or zipper type) with a maximum bag volume of 1L, completely closed. A bag has the following dimensions: 20X20 cm or 15X25 cm. Containers with a capacity of more than 100 ml, even if partially filled, are not accepted for carriage in the aircraft cabin.
You must be able to close the bag completely and put it in your carry-on luggage. The liquid bag must be removed from the hand luggage to be scanned separately.
Note: A passenger is entitled to only one such bag.
Concrete examples of LAGs assimilated articles:
cosmetics: toothpaste, hair gel, perfumes, shaving foam, shampoo / conditioner, face / body cream / lotion, hair mask, hairspray, hair mousse, sprays of any kind, liquid foundation, mascara, liquid lipstick, etc .;
beverages: soft drinks, alcoholic beverages, syrups, water, etc .;
food: soup, oil, honey (including sugary), yogurt, cream, hummus, mayonnaise, mustard, ketchup, cream cheese, eggplant / caviar salad, protein shakes, jam, compote, liquid cream, cold storage batteries loaded with gel or liquid), etc.
LAGs sealed in a Security Tamper-Evident Bag (STEB) are allowed.
STEB is the bag that you receive from merchants in the security zones of an airport or on board the aircraft when you purchase liquid products, inside which is, visibly positioned, the proof of its purchase from such a company. medium (receipt).
This bag has a single-use seal, so that after inserting the LAGs and the voucher inside the bag, any intervention on the integrity of the STEB bag seal will lead to the cancellation of the criteria for accepting the products for transport in the aircraft cabin.
Baby food and milk
If you are traveling with a baby, you can carry the required amount of milk, powdered milk, sterilized water and baby food during the flight, even if you exceed the usual fluid limit. These should not be included in the clear bag, but you should have them ready for verification at the airport security check.
Liquid drugs
You can carry as much medicine as you need during the flight. You can carry any medicine you need, but it must be in a resealable bag, along with the medical prescription.
Cosmetics and medicines

Object type

Hand baggage

Deodorants, oils, perfumes

YES, up to 100 ml

Nail polish, nail polish remover (non-flammable)

YES, up to 100 ml

Drugs

YES. Prescribed liquid medicines dispensed and packaged in containers larger than 100 ml must be accompanied by a prescription, which will serve as a supporting document at the airport.

Massage oils, lubricants

YES, up to 100 ml

Toothpaste, mouthwash

YES, up to 100 ml

Cleanser, toner, lotions

YES, up to 100 ml

Lip gel

YES, up to 100 ml

Shampoo, conditioner, shower gel, liquid soap

YES, up to 100 ml

Mascara

YES, up to 100 ml

Gel, hair spray

YES, up to 100 ml
These measures apply to 99% of airlines. In special cases, it is advisable to consult the conditions for the transport of liquids established by the airline with which you were to fly.