New luggage policy at Wizz Air, active from 1 November to 2018
Wizz Air reminds all passengers traveling after 1 November 2018 that its new luggage policy will take effect in a few days. Wizz officials say it's a transparent policy, which will facilitate faster passenger boarding and help reduce delays caused by hand luggage.
In this regard, we fully agree with Wizz Air officials. It is unclear what luggage you can take on the plane, what are the rates for other types of luggage (for the hold) depending on size and weight. And it is true that boarding will be done much faster.
New luggage policy at Wizz Air
In addition, we also understand the real problem that all low-cost carriers face: the limited number of seats for standard luggage. An Airbus A320 / Boeing 737 aircraft has 180-190 seats and approximately 80 seats for hand luggage.
Inevitably, until now, conflicts arose on boarding because of the baggage taken in the plane and those needed to reach the aircraft hold. Here appeared those problems of "discrimination", which also generated conflicts at the boarding gate.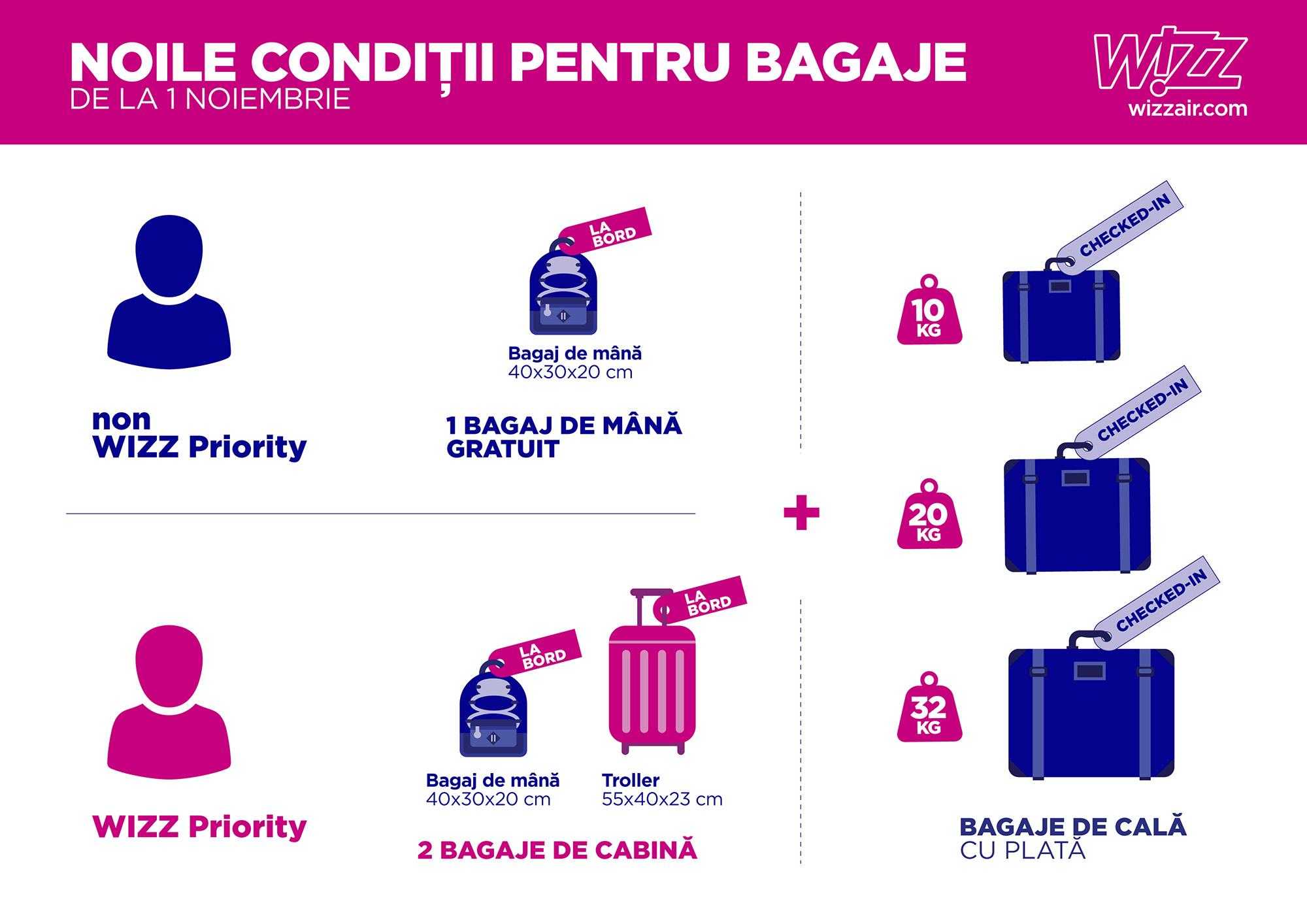 But it is not a customer-oriented policy. A passenger would like to have all their luggage free and be able to carry tens of kilograms with him :), but this is not possible. So this hand luggage and hold luggage policy was introduced. Thus, the passengers learned to handle a little, to travel light in city breaks, to adjust their luggage to the real needs and to pay as much as they need.
In addition, Wizz encourages passengers to pack their luggage efficiently and purchase WIZZ Priority, a service that includes free hand luggage (40x30x20 cm) and a troller (55x40x23 cm) that can be carried on board and checked in. Priority boarding from just 5 euros.
But it remains a problem. What will happen if 100-120 passengers choose Wizz Priority and show up for boarding?