People from aviation: Cătălina Rus - Aircraft Turnaround Coordinator
We continue the series of interviews within the project "People from aviation" with the one taken by Catalin Rus - Aircraft Turnaround Coordinator.
As I have told you on other occasions, aviation is not just about pilots and flight attendants. Everyone who works on the plane, around the plane or at the airport is part of this world of commercial aviation.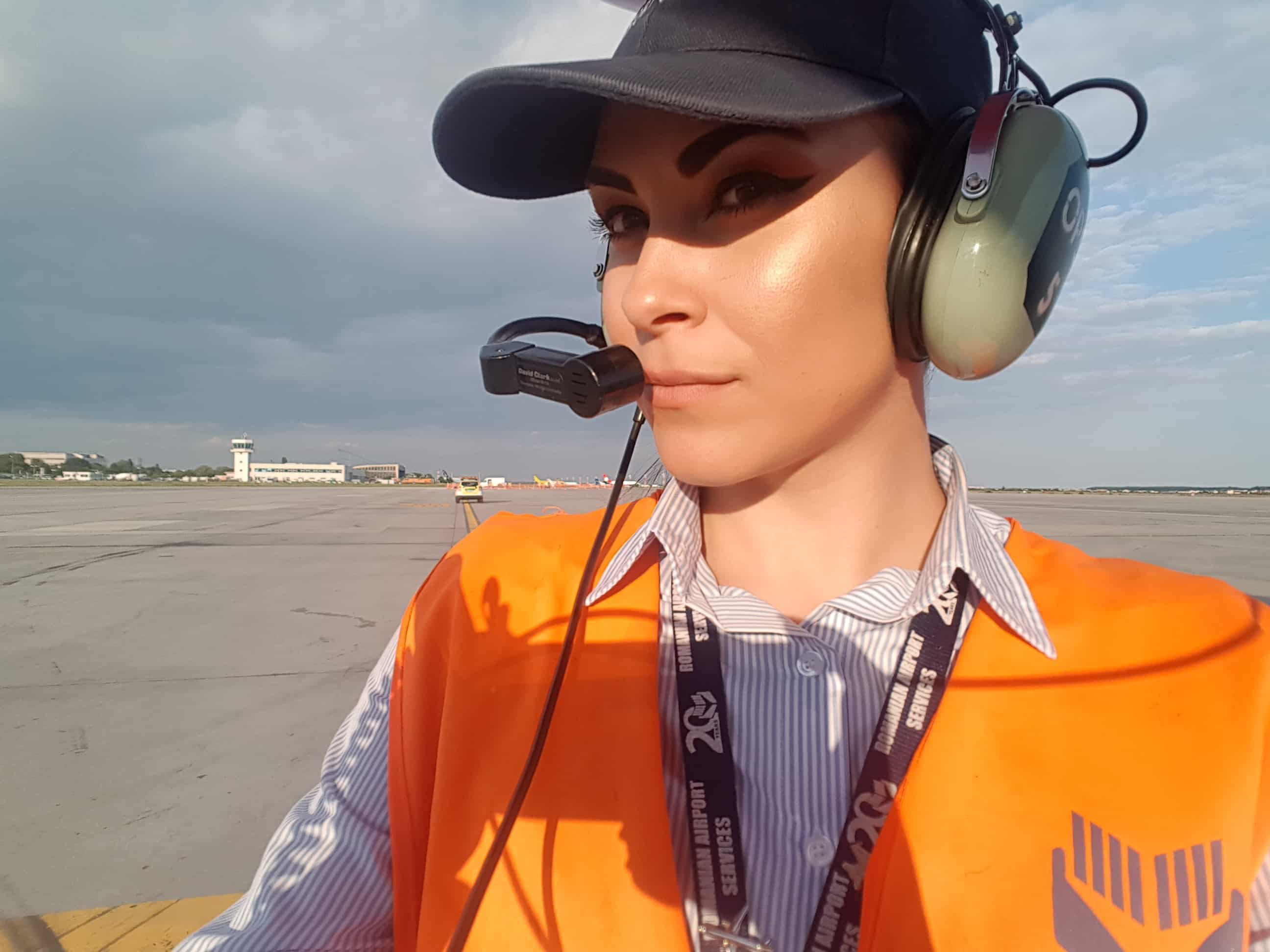 Catalina Rus - Aircraft Turnaround Coordinator
These days I talked a little with Cătălina Rus - Aircraft Turnaround Coordinator. He is a ground operational agent within the Romanian Airport Services (RAS) handling agency. What exactly does Aircraft Turnaround Coordinator mean? Find out the answer in the interview below.
To get acquainted! Are we talking to?
Hi! My name is Catalina Rus. I work within the handling agency Romanian Airport Services, as an operational agent, turnaround coordinator for different airlines operating from the airport in Bucharest.
Where did your passion for aviation come from and how did you decide to enter the field?
My passion for aviation came from when I first started working in the field. I just happened to be there, but I'm not sorry.
Although I was a child in the Aviation-Baneasa area and I graduated from Henri Coandă high school, specifically for aviation, I never thought that I would fall in love with airplanes and get to work with them every day.
I ended up working for this company through a college colleague. She had joined the check-in department. At first I was also a check-in agent, but I transferred to the platform, among the planes. I like working with planes on the platform more than the front office.
Through work and passion we have reached the current position, operational agent. Now I really like what I'm doing so I wouldn't want to do anything else.
What does your job involve and how much of an applicant is it?
My job is not as simple as it sounds. Being a turnaround coordinator means being responsible for an aircraft from landing to take-off.
I coordinate everything on the plane: loading-unloading, disembarking-boarding passengers, necessary documents, collaborating with the crews of the companies.
At the same time, I am "that Bulgarian" of information that connects all the departments of the airport with the plane, regardless of the company.
I have to coordinate all the departments of the company I work for and pay attention to details. Every company has its time of state on the ground and of course departure times.
In order for everything to come out perfectly and the plane to leave on time, it needs a perfect and precise coordination made up of times and calculations.
What are your future professional plans? Do you want to stay in aviation or pursue another job?
At the moment I am happy where I am and what I do. If you ask me now if I would give up this field, I would say NO.
In time I do not know what it will be. According to many people, you don't really see women working as a turnaround coordinator. Working conditions are not always the friendliest, always outside the plane, regardless of the weather conditions, but I like it!
In your job I suspect there are no monotonous days. Can you tell us how a day at work is going? Have you had ups and downs, pleasant situations and less pleasant ones?
Haha, there are so many days, it depends on how you look at them. Monotone NO, never. A day at work is apparently simple.
In principle you know which planes to serve on that day. You can calculate the times for each plane etc., The situation is complicated when the planes have delays or delays can occur on the ground.
We also had adventures, otherwise it is not possible in this field, but it is important to always find a solution for any problem you have, we are just coordinators right? 🙂 Unpleasant situations occur when the weather is unfavorable, confusing the smooth running of the activity.
Pleasant situations are always there, every day when you manage to do everything you set out to do and everything goes according to plan. We experience unique feelings when we see "our planes" take off.
What advice do you have for those who want to pursue a career in aviation, especially in your field of activity?
For those who want to work in this area and in this department, I have the following advice even if it sounds like a fitness trainer: "Clear mind! Great attention and ... don't forget the clock at home! "
Cătălina, thank you for the interview and for the information shared with us. Lots of success and success in daily work among airplanes.
Dear Readers, Greet those on the ground, who work regardless of the weather conditions and take care that the planes take off safely in time.