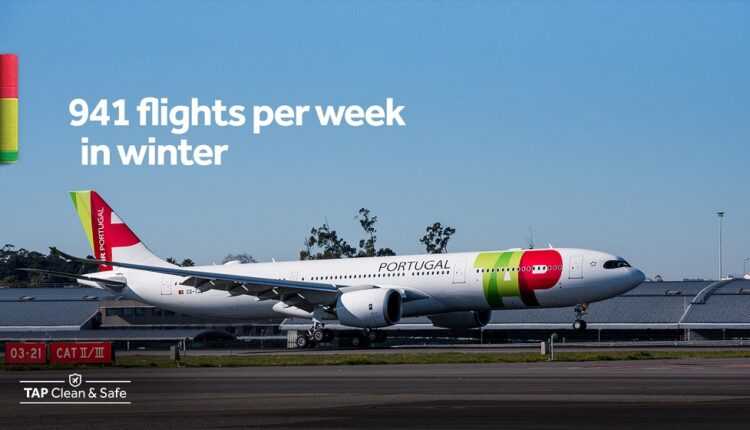 TAP Air Portugal will operate 941 weekly flights in the winter season 2021-2022
TAP will operate 91 more flights a week in December than it does now, in the summer season, with winter being one of the busiest times for airlines.
In the winter season - which begins on October 31 and runs until March 26, 2022 - the airline will operate a total of 941 round-trip flights per week, 91 more than the 850 the company operates this summer.
This increase in TAP's offer in the winter season provides for the recovery of travel demand, in line with international projections for the tourism sector and the aviation industry and contributing to the company's prospects for operational and economic recovery.
TAP Air Portugal will operate 941 flights a week in the winter season 2021-2022, if travel restrictions allow.
TAP will perform 101 flights a week with departure from Porto, directly connecting the city with Lisbon, Funchal, London, Paris, Zurich, Geneva, New York, Rio de Janeiro and S. Paulo. Madeira will benefit from 49 flights a week to Lisbon and Porto. Ponta Delgada will have 15 flights a week to Lisbon and Terceira and 7 flights a week to Lisbon. Faro will have 21 weekly flights to Lisbon.
In total, TAP will connect Portugal to 37 cities in Europe, with 585 round-trip flights per week. To Africa and the Middle East will be 93 flights to 15 destinations.
In United States, Mexico and Canada, TAP will restore operations on all routes to which the company operates flights before and during the pandemic. There will be 59 flights per week to 11 destinations - Boston, Newark (departing from Lisbon and Porto), Washington, New York (JFK), Miami, Chicago, San Francisco, Montreal, Toronto (Canada) and Cancun (Mexico).
To Brazil, the carrier will offer 52 weekly flights on the 12 routes it will operate this winter. It will also operate a weekly flight to Venezuela. TAP has already announced the opening of scheduled flights from Lisbon to Punta Cana, Dominican Republic, with three weekly flights.
TAP continues to strengthen and diversify its Lisbon hub, offering customers more and more options for destinations and travel.
With the increase in operations scheduled for this winter, TAP is also strengthening its role in fueling the Portuguese economy, promoting the arrival of tourists from around the world and stimulating the tourism sector. At the same time, the company provides travel to Portuguese communities, bringing together families from all over the world, at such significant times as Christmas and New Year.