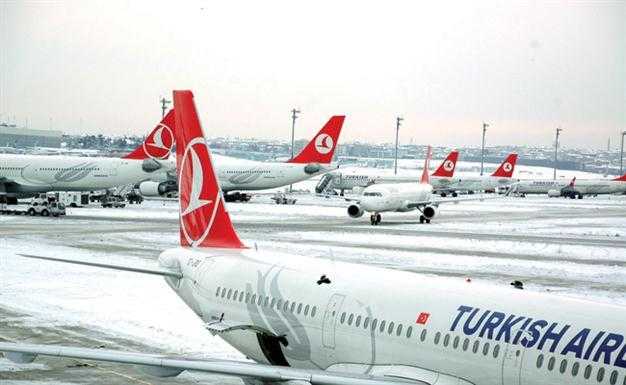 Turkish Airlines canceled flights to Bucharest, on 18 February 2015
Delayed plane? Flight canceled? >>Claim compensation now<< for delayed or canceled flight. You can be entitled to up to € 600.
The Ministry of Foreign Affairs informs Romanian citizens, who are or are traveling on the territory of the Republic of Turkey, that, following the heavy snowfall and wind gusts expected during the days of February 17 and 18 2015, Turkish Airlines will cancel over 120 domestic and international flights departing or arriving in Istanbul.
The flights of Tarom between Bucharest and Istanbul were not affected by the weather, but there is the possibility of their suspension, depending on the evolution of the weather conditions.
MAE recommends that Romanian citizens traveling to Istanbul during the mentioned period, including those who will be in transit at Ataturk and Sabiha Gokcen airports, having a stopover to other destinations, should consider canceling some of the flights of Turkish Airlines, due to weather conditions. unfavorable.
During the specified period, all passengers are asked to contact the airline before making the trip, to be informed about any changes and to follow the evolution of the situation on the official website of Turkish Airlines.
According to the list of canceled flights, Turkish Airlines canceled the flights Istanbul - Bucharest that were to be operated today, February 18, 2015.
18.02.2015 TK1044 (OTP) Bucharest Henri Coanda Airport 10: 15 (IST) Istanbul Ataturk Airport 11: 40
18.02.2015 TK1043 (IST) Istanbul Ataturk Airport 07: 55 (OTP) Bucharest Henri Coanda Airport 09: 15
18.02.2015 TK1046 (OTP) Bucharest Henri Coanda Airport 21: 50 (IST) Istanbul Ataturk Airport 23: 15
18.02.2015 TK1045 (IST) Istanbul Ataturk Airport 19: 30 (OTP) Bucharest Henri Coanda Airport 20: 50
Turkish Airlines offers passengers the opportunity to return / modify / cancel airline tickets booked before 18 February for flights to / from Istanbul, for 18-19 February.
The flight was also canceled:
18.02.2015 TK1051 (CND) Constanta Mihail Kogalniceanu Airport 16:40 (IST) - Istanbul Ataturk Airport 17:50
We will come back with information! The news is being updated!