Wizz Go from Wizz Air - a new price category
This morning, a loyal Airlinestravel reader drew our attention to a new tariff category launched by Wizz Air. It's about Wizz Go, an intermediate category between Wizz Basic and Wizz Plus.
Wizz Air from Wizz Air
Both "WIZZ Go" and "WIZZ Plus" offer customers a reduced cost for "Base fare" (basic package offering airfare and a small cabin baggage) and the sum of additional services, purchased separately, as well as a longer booking. fast.
The new "WIZZ Go" is intended for seasoned passengers, who appreciate the low fares and offers, but at the same time use the most popular WIZZ products and services. "WIZZ Go" includes a large cabin luggage, a 23 kg hold luggage and an assigned seat (first-place seats and extra-foot seats are an exception).
CAREFUL: In the Wizz Go and Wizz Plus categories you do not include the small cabin luggage. Below you have a comparison of the 3 tariff categories offered by Wizz Air.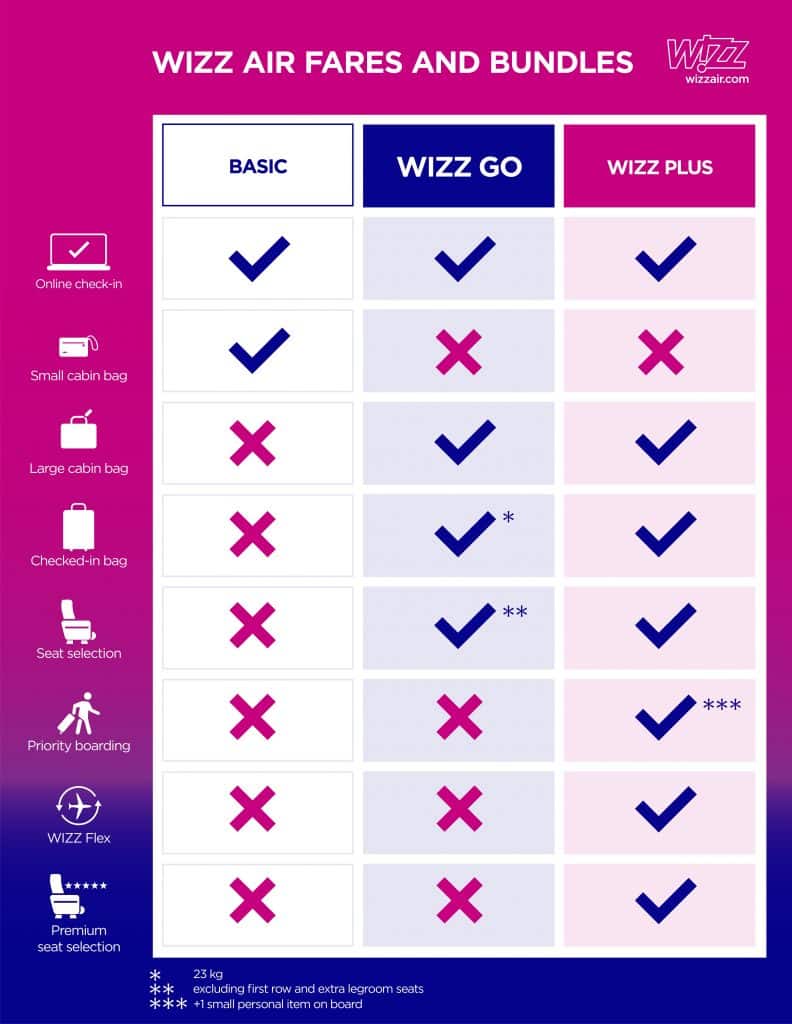 The service "WIZZ Plus"Offers even more services and benefits for passengers, who can enjoy great flexibility and maximum comfort during the journey: from booking the ticket online to landing at the destination. "WIZZ Plus" includes a 32 kg hold luggage, large hand luggage, airport check-in, WIZZ Flex option for changing the travel date, allocated seat (including first and foremost with the extra footrest) , but also priority on boarding (also allows boarding and a small personal object).
Starting today, WIZZ customers can book seats on all over 450 of airline routes by choosing the "WIZZ Go"Or" WIZZ Plus "on the wizzair.com website.