City Break Oradea: a colorful city with many spectacular Art Nouveau buildings. Another Romania! (Photo)
The year 2020 is atypical for everyone. If we could, we would take him out of the chronology of life. But we can't, so we have to get used to it and what it offers us. The COVID-19 pandemic caused us to give up a few trips already scheduled and adapt to existing rules and restrictions.
And I haven't flown for more than 6 months. From the end of March to the beginning of July, most flights were canceled. Then more and more rules and restrictions began to appear between countries. Everything is influenced by the evolution of the pandemic in Romania and globally.
But gradually, we set a pace and adapt to these times. We travel more in the country. In fact, every year I traveled to Romania. I was in Iași, Timișoara, Sibiu, Prahova Valley and on the Romanian coast. And this year we plan to discover northern Romania as well.
We have a very beautiful country, rich in relief, landscapes, traditions and culture. Although we don't have many high-speed roads, we can move quickly through domestic flights :). TAROM and Blue Air have developed their network of domestic routes and in a maximum of 60 minutes you can travel from Bucharest to Oradea, to Iasi, Suceava, Timisoara, Sibiu, Cluj, Baia Mare, Satu Mare. And then around.
Oradea, a colorful city with many spectacular Art Nouveau buildings
The weekend, which has just ended, I spent in Oradea. Blue Air resumed flights from Bucharest to Oradea and I took advantage of the plane ticket offer. I bought at 10 EURO / segment Bucharest - Oradea and return. We left on August 14, with a flight of 10:45, and we returned on Sunday, with a flight of 12:25. I was glad to see that the planes were almost full, with a load of over 80%. You don't have to travel abroad to enjoy a relaxing city break.
I had heard beautiful things about Oradea, about the big infrastructure projects, about the redevelopment and rehabilitation of the city. And I went to convince myself with my own eyes. In fact, for me it was the second trip to Oradea, at a distance of 11 years. The first time I was in 2009, in a blogtrip. And the differences are huge. Oradea has not existed since 2009.
After touring the old center and the large pedestrian areas, I concluded that Oradea is very similar to the towns in Germany. Arranged squares, rehabilitated and pleasantly colored buildings, cafes on their ground floor, restaurants and pubs for all tastes and pockets. The world is much calmer, more relaxed. They all comply with COVID-19 safety and prevention measures. Even at services, a mask is worn, everything is very well organized and civilized.
Oradea is part of another Romania!
Public transport has been modernized. An Aquapark was built, named Nymphaea, worthy of European aquaparks. And things don't stop there. Oradea is not ready yet and there are many more buildings in the process of rehabilitation.
Even the banks of the Cris River are in the process of rehabilitation and modernization, with pedestrian areas and bike lanes. Shopping malls are well thought out and strategically located. Even a Multipurpose Hall is under construction and I would not be surprised if it is ready by 2021. Everything moves very fast.
And most importantly, the Art Nouveau architecture is preserved. Oradea is on the list of Art Nouveau cities, along with Timisoara and other cities such as Budapest, Barcelona, ​​Brussels, Paris, Riga, Girona and many more.
I found out that the unemployment rate is very low in Oradea. They all have something to do. Some in the HoReCa sector, others in heavy industry or construction.
Oradea is clear proof that something beautiful can be done in Romania as well. We need an administration with will, vision and people-oriented. Oradea attracted millions of EURO from the European Union, money spent per capita, based on a well-established plan. I have seen something like this in Cluj, Iași and Sibiu. May! Oradea is part of another Romania, normal Romania!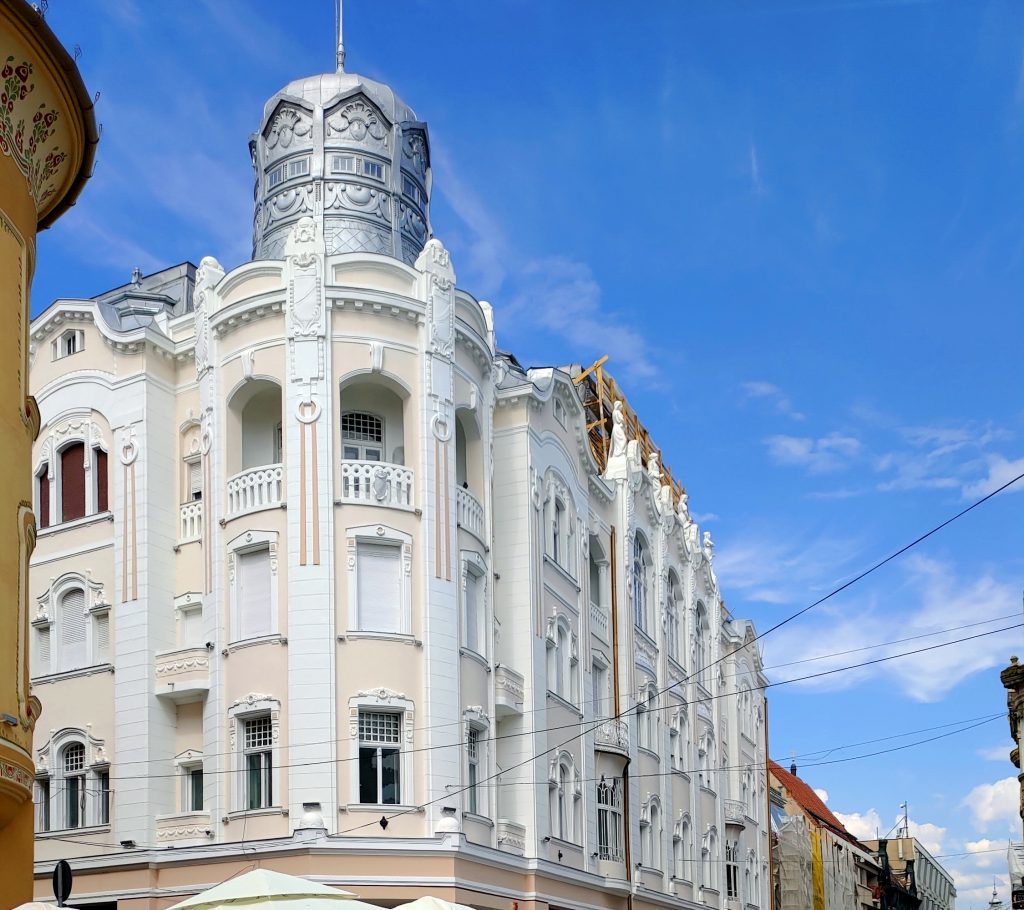 2 days were not enough for us to enjoy Oradea, to discover all the objectives and secrets of this metropolis. Which is why we will consider getting to this beautiful corner of Romania.
* Our vacation was NOT sponsored by public / private businesses.