The 2022 Tour of France will start in Copenhagen on July 1, 2022!
The Tour de France, the popular bicycle race, will start its first three stages of the competition in the Danish capital, Copenhagen, on July 1, 2022.
According to Visit Denmark, the 2022 Tour de France will start with a 13-kilometer test, considered a short but fast route, which will initially be located only in Copenhagen.
"The biggest cycling race in the world starts in the best cycling city in the world. Copenhageners love cycling, and Danes love the Tour de France. It will be a warm welcome on a landmark-filled route that celebrates everyday cycling, architecture, history and culture. " said Alex Pedersen, spokesman for the Grand Départ Copenhagen Denmark.
Moreover, the second stage of the tour will take place on July 2 from Roskilde to Nyborg, a distance of 202 kilometers. While the first stage includes a tour of Copenhagen and is characterized by a short but fast route, the second is harder because it starts with climbs.
Specifically, the next day will start with a route of 62, 72 and 84 kilometers. One is in a mountainous area, followed by a 124-kilometer sprint route, where cyclists will cross the third longest suspension bridge in the world. The first three kilometers gradually increase until the cyclists reach 65 meters above sea level.
In the second stage, there are three different climbs on the route, each offering 1 point in the ranking. The first is after 27 kilometers on the Koldingvej (1,4 km, 4,4%), during which time many cyclists can leave the race.
Tour de France 2022 program:
Stage 1 (July 1): Copenhagen - Copenhagen, individual time trial of 13 km;
Stage 2 (July 2): Roskilde (Denmark) - Nyborg (Denmark), 199 km;
Stage 3 (July 3): Vejle (Denmark) - Sonderborg (Denmark), 182 km;
July 4: Transfer to France
Stage 4 (July 5): Dunkirk - Calais, 172 km;
Stage 5 (July 6): Lille - Arenberg Porte du Hainaut, 155 km;
Stage 6 (July 7): Binche (Belgium) - Longwy, 220 km;
Stage 7 (July 8): Tomblaine - La Super Planche des Belles Filles, 176 km;
Stage 8 (July 9): Dole - Lausanne (Switzerland), 184 km;
Stage 9 (July 10) Aigle (Switzerland) - Chatel Les Portes du Soleil, 183 km;
July 11: Day of rest at Morzine;
Stage 10 (July 12): Morzine - Megeve, 148 km;
Stage 11 (July 13): Albertville - Col du Granon, 149 km;
Stage 12 (July 14): Briancon - L'Alpe d'Huez, 166 km;
Stage 13 (July 15): Bourg d'Oisans - Saint-Etienne, 193 km;
Stage 14 July 916): Saint-Etienne - Mende, 195 km;
Stage 15 (July 17): Rodez - Carcassonne, 200 km
July 18: Day of rest in Carcassonne;
Stage 16 (July 19): Carcassonne - Foix, 179 km;
Stage 17 (July 20): Saint-Gaudens - Peyragudes, 130 km;
Stage 18 (July 21): Lourdes - Hautacam, 143 km;
Stage 19 (July 22): Castelnau-Magnoac - Cahors, 189 km;
Stage 20 (July 23): Lacapelle Marival - Rocamadour, individual time trial of 40 km;
Stage 21 (July 24): Paris La Defense Arena - Paris Champs-Elysees, 112 km.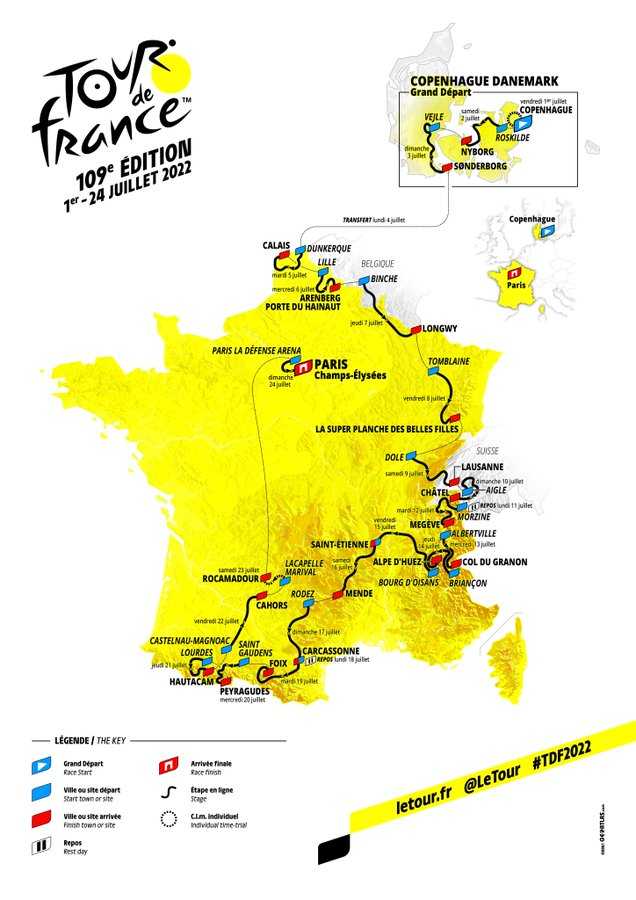 The Tour de France, held mainly in France, is an annual cycling race that, in 2019, generated profits between 60 and 150 million dollars. In addition, data from Statista show that 40% of revenue was generated by advertising and sponsorship, while 5% went to local taxes. However, TV rights accounted for the most revenue, accounting for 55% of the total.