Wunderland thumbnail from Hamburg, Germany (PHOTO)
In the spring of this year, I was in one city ​​break in Hamburg. It is no longer a secret that I like Germany, always looking for opportunities to travel to this country. But Hamburg it was on my list because of it Miniatur Wunderland, the largest miniature museum in the world.
Wunderland miniature from Hamburg, Germany
And to be more precise, I wanted to see Knuffingen Airport, the small-scale copy of Hamburg Airport. A dream of mine from 2012 has been fulfilled in 2016. If we really want something, sometime it will happen :). Thank you Blue Air for direct flights Bucharest - Hamburg, thank the German Tourism Organization (Germany Travel) for faultless accommodation.
That being said, I invite you to discover the beauty Miniatur Wunderland. The project was created by twin brothers Frederik and Gerrit Braun. The construction of the museum started in 2000, and the first 3 sectors were completed in 2001. This is Harz / Central Germany, Austria and Knuffingen. Then the sectors were built: Hamburg (2002), America (2003), Scandinavia (2005), Switzerland (2007), Knuffingen Airport (2011) and Italy (2016).
Knuffingen Airport - Miniatur Wunderland - Hamburg

At the moment, The Wunderland miniature in figures looks like this: 930 of trains, 14400 of wagons, over 15 400 of meters of railway line, over 335 000 of lights, over 215 000 of figurines and over 225 000 of trees. The 8 sections required approximately 580 000 working hours.
Images from different areas of the Wunderland Miniature
Images Airport Knuffingen
But my favorite was Knuffingen Airport. You can see many planes and cars in motion. We saw Boeing 777-300ER Air France, Boeing 747-400 Eva Air and Airbus A380-800 Lufthansa. Also missing are Antonov An-124 Cargo and the Space Shuttle Discovery. Plus many other aircraft and airlines.
There is a runway where the planes land and take off, the control tower and the main terminal, a cargo area and a hangar service, all copied after Hamburg International Airport.
And the plan doesn't stop there. The Braun brothers plan to develop the Wunderland Miniature, adding new sections. Until 2020, new sections will be built: Italy, Great Britain, Africa and France. There will be over 4 trains and 1300 20 cars. And they will double the occupied area.
Within the exhibition, there are areas with interaction. By pressing the buttons on the rail, different characters / buildings begin to move. A tractor pulls weights; a figurine cuts a tree, which falls over the house; a fire is started, and firefighters intervene and many more.
The museum is structured on 3 levels. There is a waiting area with a restaurant, tables, sofas and children's playgrounds.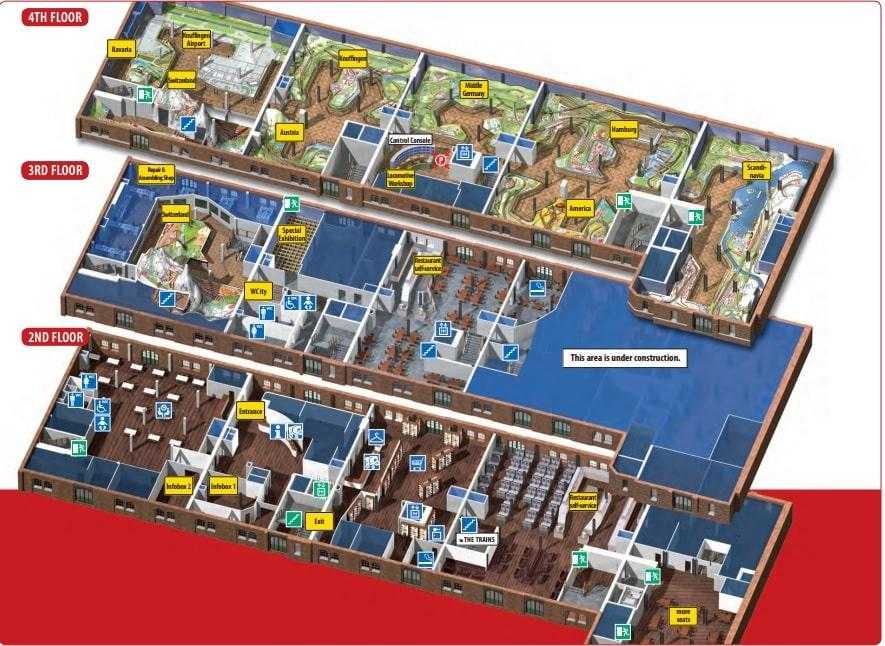 Rates are acceptable, starting from 3 EURO / visitor. There are certain entry time intervals, the museum supporting a limited number of visitors simultaneously. We lingered 3-4 hours and still couldn't find the whole museum. Of course, I stayed mostly at the airport :). Equip yourself with external battery for smartphones. I managed to finish the batteries of the second phones :).
Miniatur Wunderland is a fun park for children, but also for the elderly. I was pleasantly surprised by this museum, by the way these small towns were built to the finer details.
If you pay attention, you will discover a Superman in his attempt to rescue a car, a human figure falling into a river, two young lovers, a ski accident, a protest or the family of penguins wandering the city. I wouldn't want you to miss the invasion of alien ships or the flying bee. And there are many other beautiful things to see within the Wunderland Miniatur, but I let you discover them yourself.
Photos taken with ASUS ZenFone Selfie and Lenovo Vibe For Z2! Article written on a ASUS ZenBook UX305!