(Video) Inauguration of the Reykjavik - Boston route with WOW Air, 27 March 2015
Delayed plane? Flight canceled? >>Claim compensation now<<for delayed or canceled flight. You can be entitled to up to € 600.
Towards the end of February, AirlinesTravel informs you that WOW Air, Iceland's low-cost carrier, will begin long-haul flights to Boston and Washington.
Here's the best day has come, and again WOW Air opened the route Reykjavik - Boston, on 27 March 2015. As I announced, the flights are operated by Airbus aircraft A321-200 (WL) by 200 places. For starters, the route Reykjavik-Keflavik - Boston-Logan will be honored with 5 weekly flights, except on Wednesdays and Saturdays.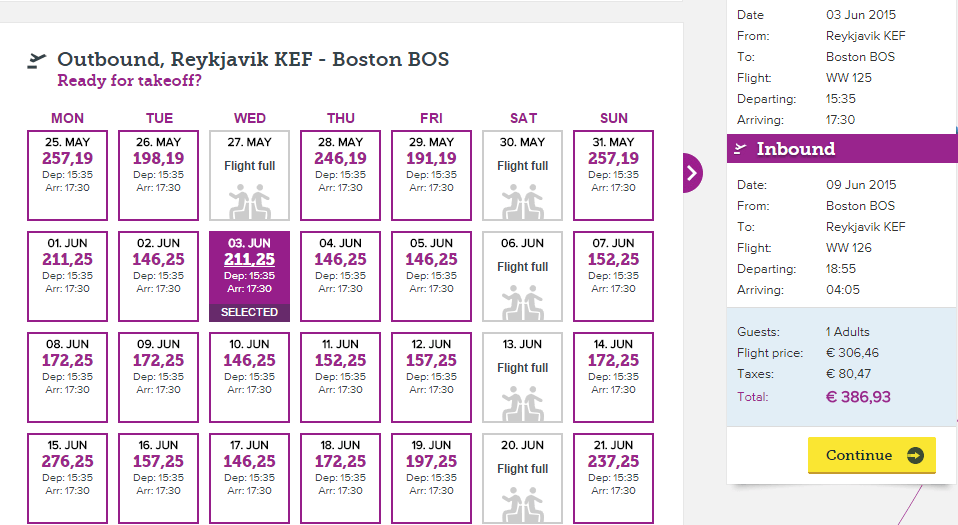 According to the WOW Air booking engine, the 6 flight will be introduced on Wednesday, starting with June 3. Below is the flight schedule:
Reykjavik - Boston - TUESDAY MARCH 27
WW125 KEF 15: 35 - 17: 50 BOS 32S - Wednesday and Saturday (28 March - 2 June); no Saturday, 3 June
WW126 BOS 18: 55 - 04: 05 + 1 KEF 32S - no Wednesdays and Saturdays (28 March - 2 June); no Saturday, 3 June
On this route, WOW Air is in direct competition with Icelandair.
According to information provided by flightradar24.com, the aircraft Airbus A321-200 (TF-MOM) WOW Air departed one hour late from Keflavik International Airport.
(Photo: WOW Air)