You buy from eMAG, Fashion Days, elefant.ro, Libris.ro through our affiliate links and help finance the airlinestravel.ro site. It doesn't cost you anything extra, but it helps us to develop this project. Thank you!

Canceled or delayed flights? >>Claim compensation NOW<< for delayed or canceled flight and you can receive up to 600 € compensation!
Information on Blue Air flights from / to Brussels from 30 in March
Brussels Zaventem Airport is still closed, and Blue Air has taken the necessary measures to ensure the safe operation of 0B123 / 124 flights from Bucharest - Brussels - Bucharest from March 30 and flights from 0B6823 / 6824 Iasi to March - Brussels which will be redirected to Maastricht Aachen Airport (located 30 km from Brussels), the flight schedule remaining unchanged, as follows:
Blue Ai flight information
0B123 07: 05 Bucharest - 09: 00 Maastricht Aachen
0B124 09: 40 Maastricht Aachen - 13: 25 Bucharest
(all are local times)

0B6823 09: 30 Iasi - 11: 25 Maastricht Aachen
0B6824 12: 10 Maastricht Aachen - 16: 00 Iasi
(all are local times)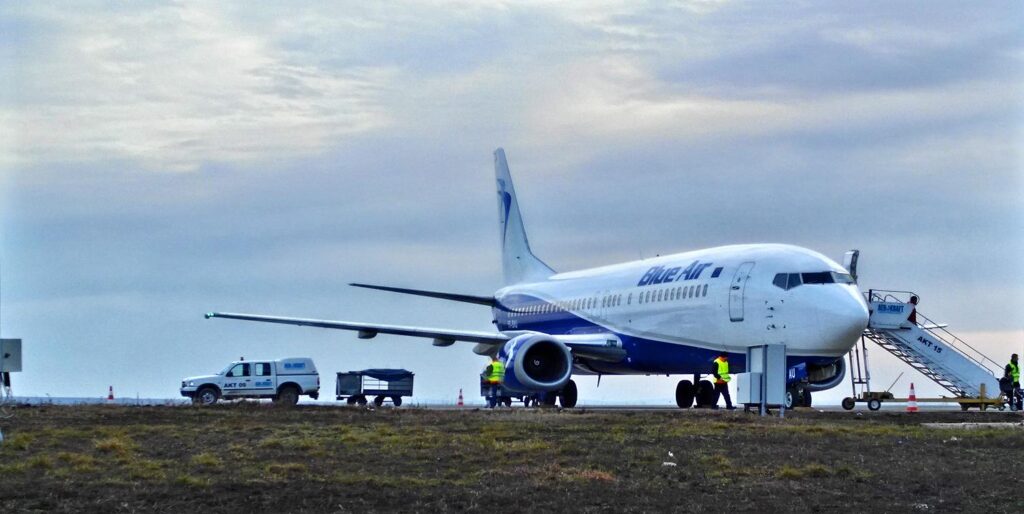 Passengers will be transferred free of charge by bus between Brussels - Gare du Nord and Maastricht Aachen Airport. Passengers must arrive 4 hours before the flight to the meeting point in Brussels - the dedicated bus station in Gare du Nord. The transfer by coach to Brussels - Gare du Nord will also be ensured.
Blue Air contact details: Facebook or Twitter, as well as on the departure airport websites. Blue Air Call Center: Romania 0903 760 130, Belgia or calling 0032 2 2177273 for a quick, easy and high-quality service.